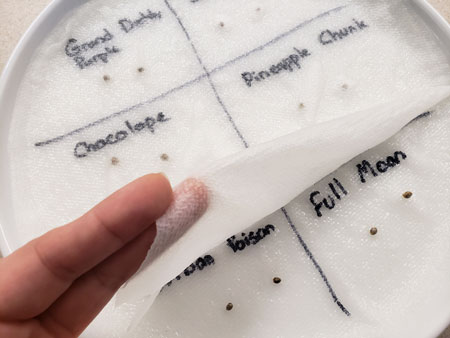 Plug in your seedling heat mat. It should warm up quickly. I've put the plates directly on the mat before, which worked well, but sometimes I worry my little weed seedlings may get too hot with the plate directly on the mat. Since I already have a Rapid Rooter tray for later, I place it between the mat and the plate. Feel free to use something else like a book or towel. The basic idea is to put some space between the heating mat and the plate so the plate still gets warm but the extra air space keeps the heat nice and even.
Within a day or two under a light (or in a sunny window), you'll have a bunch of happy seedings!
2.) Label the Strains
First, give the seedling 24-48 hours to see if it pushes the shell off on its own. Many seedlings just need a little extra time and don't need your help.
If you don't see any progress and leaves still seem trapped after a day or two, you may need to remove the shell to release the leaves contained inside. If leaves can't break free and see the light, the seedling may die.
7.) Check on Seeds at Least Once a Day
Pros
Are you ready to germinate your seeds? Here's exactly what you'll need:
A seed requires plenty of moisture to absorb, increase in size, and gradually break out of the shell. You know you've done the germination process right when a seedling emerges from the hard seed shell. This growth will be the basis of the roots and the part of the seedling that absorbs nutrients from the growing medium.
Check out our beginner grower's guide to learn how to germinate seeds with the paper towel method. Every cannabis plant starts off as a tiny seed with the potential to grow huge yields and bountiful buds. If you want to start your garden on the right foot, the germination phase is critical to its future growth.
Maximize Your Root Growth
So, what is needed to get these seeds popping?
Germination refers to the process in which the plant begins to grow from a seed. As the first stage of the growth cycle, germinating a seed requires a grower to create the perfect environment to get those seeds to break open and pop with a fresh and vigorous growth.
For seed germination, the paper towel method is one of the easiest and most effective ways to get your cannabis seeds to pop. Essentially, you're germinating seeds between two damp paper towels and a couple of plates, which are used to create a contained and dark environment for a few days. During this time, the seeds will begin to sprout, if done correctly.
What Is the Paper Towel Method?
Using the paper towel method is easy and affordable for beginner growers. However, there are some disadvantages to using this method. In some cases, the seed shell will get stuck on the seed leaf. Using tweezers can help remove the shell from the stuck-on leaves. This should be a last-ditch method if after a few days the seed shell is still stuck on the leaves. Here's how to remove the seed:
When your seedlings have sprouted long enough roots, you can gently use your hands or tweezers to remove the seeds from the paper towels and place them in your preferred growing medium. Some users place them inside Rapid Rooters to stimulate germination. Here's a guide on how to do so: