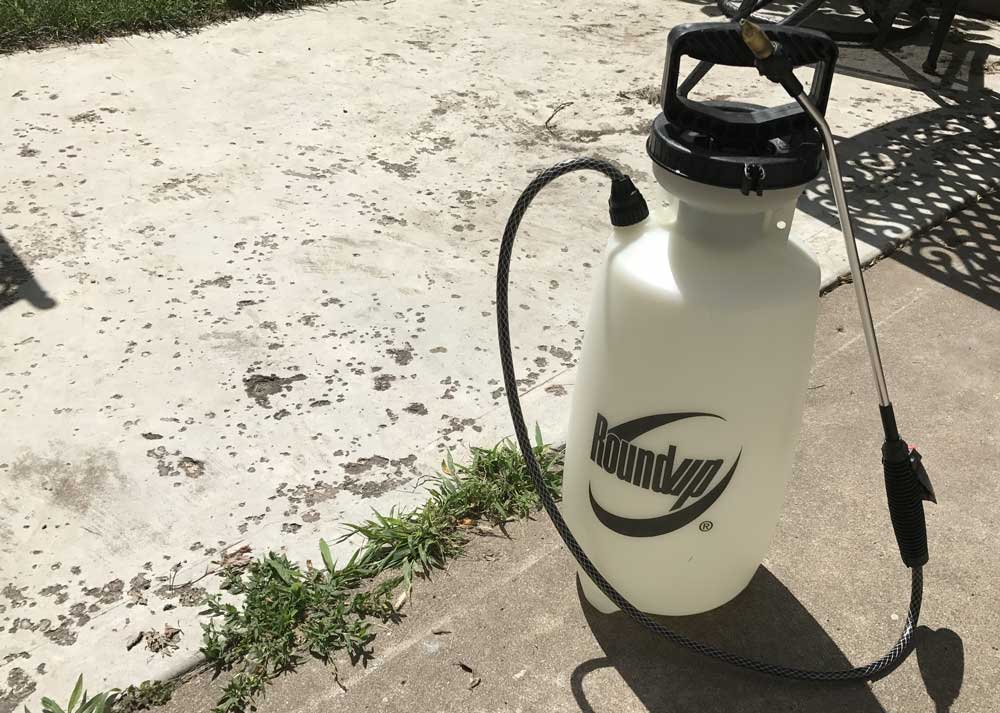 Once they leech into the soil, weeds will have a difficult time growing. These methods need to be re-applied often to work effectively.
Let's look at a couple of ways to prevent and get rid of weeds on a patio.
Once the larger weeds are removed, pressure wash around the stones.
Simple household baking soda may be all you need for your weed problems, especially if you want to kill weeds growing near decorative plants you'd like to keep. Baking soda is a natural product that will not contaminate your property or landscaping and is safe for the environment.
Preventing Weeds From Growing on a Paver Patio
Selective herbicides can be applied to your whole patio because they target just weeds while having little to no effect on the surrounding grass. Non-selective herbicides will kill every type of plant that they touch, so you should only use them in the middle of your paved area.
To prevent weeds from growing in your paving, you can pour baking soda all over the paved area and then sweep it into the cracks. You should re-apply every four to six weeks. This method works the fastest during spring and fall but can still work during summer.
While the best way to get rid of weeds is to prevent them from growing in the first place, there are several ways to remove those that have already started to grow on your pavers.
Method #1: Baking Soda
Vinegar, like baking soda, is a natural household product that is safe to use as a weed killer. Vinegar has acetic acid, which draws the moisture out of plants causing them to die. Vinegar is extremely fast-acting and will result in brown, withered weeds within 24 hours.
Baking soda, or sodium bicarbonate, works by overloading the weed with salt, causing it to dry out all the way to the roots and die.
A deck or patio crafted of pavers is sure to have lines between each stone. Without proper prevention, weeds can find their way through those joints, reducing the appearance and potentially causing damage to the entire floor. With a few preventative measures, weeds can be avoided in the first place. If weeds are already present, there's no need to stress. Corrective measures can eliminate the weeds and restore the look of your driveway, deck, or patio.
Preventing Weed Growth
When weeds are already present you have to go from prevention to finding effective remedies for the problem. There are a number of ways you can remove existing weeds from your paver area. A single weed-removal method may not be enough. It may be more effective to combine two or more of these strategies, depending on how severe the weed problem is. Once the problem has been rectified, go back to the prevention methods to keep them away.
Ensure Proper Slope
Weeds thrive in cool, damp soil. When the deck or patio is properly sloped, water runs down the slope and doesn't stay stagnant in the crevices between the pavers, helping to prevent the conditions weeds need to thrive. The slope of the paved area should always tilt away from the house.

There are few things more frustrating than grass between pavers on your pathway or patio. Not only do they make the surface look untidy, but weeds are also tedious to remove. We'll show you how to prevent weed growth between paving stones.
Properly installed paving stones will not be easily susceptible to weed growth. And while choosing the best materials for your project will help prevent weed growth, weeds are experts in finding places to grow. Even just a couple seedlings can quickly spread throughout your entire patio.
Despite how determined weeds can be, there are effective solutions that will prevent and deter weeds from growing. Here's how to prevent weed growth between paving stones.