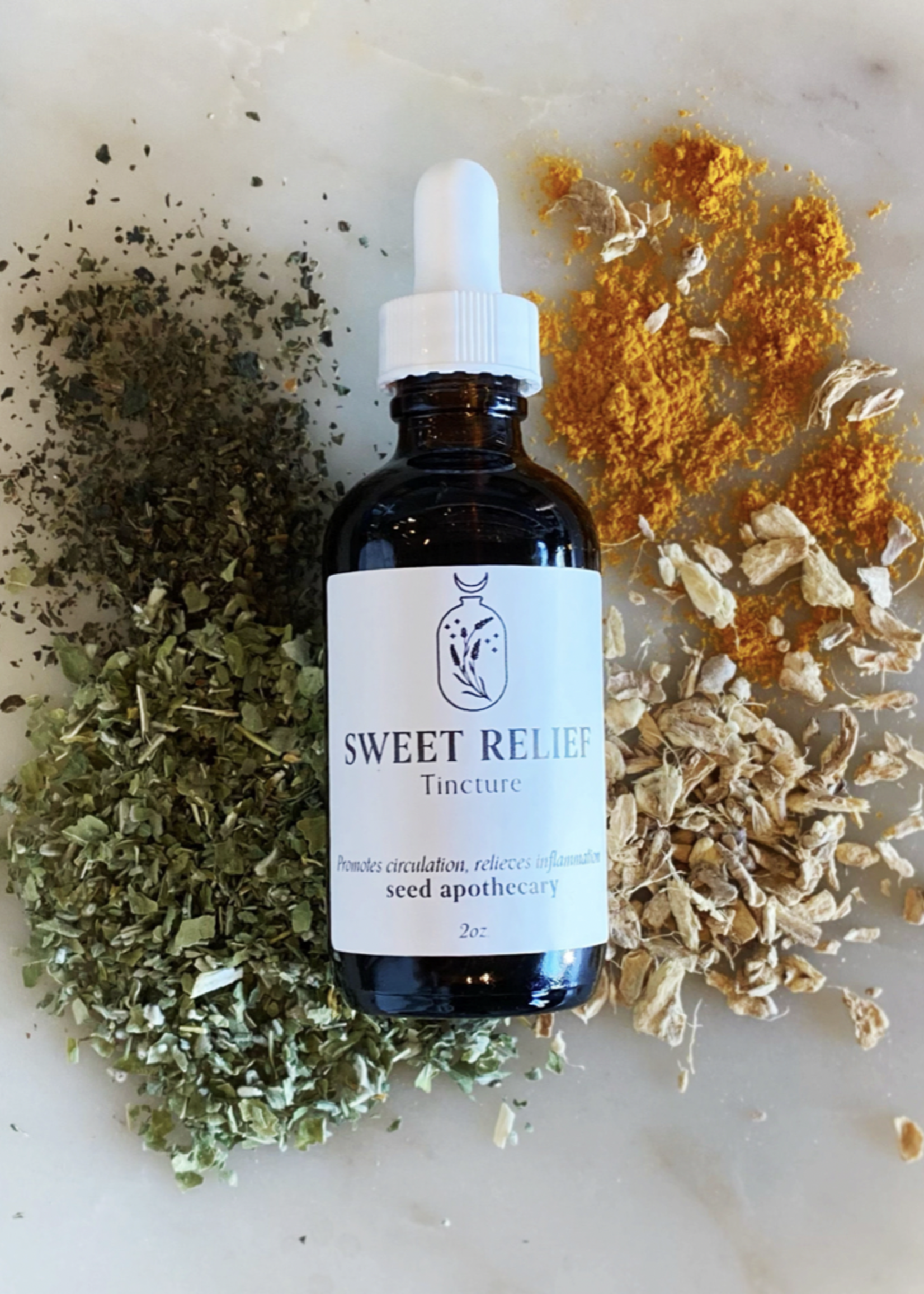 The rating of this product is 0 out of 5
Take 1-3 Droppers full under the tongue or in 1/4c of juice/water. Take more as needed.
Made with *All Organic Ingredients* Ginger, Turmeric, Nettles, Marshmallow Leaf, Plantain Leaf, Cane Spirits.
Ginger and Turmeric work together to gently bring heat and soothe inflammation. Nettle brings bloodflow to places where the joints feel stiff and painful, and those spots that have a decrease in range of motion, while decreasing inflammation. Marshmallow and Plantain are both very soothing to the body as a whole, and work to decrease the inflammatory response.
Inflammation modulating, pain relieving, and circulatory stimulating. Sweet Relief is your saving grace if you suffer from swollen or painful joints, sluggish circulation, or chronic pain.
Peppermint Oil stimulates circulation and helps provides a cooling and refreshing effect on the lips.
FREE FROM: Parabens, Sulfates, Phtalates and Aluminum
KEY INGREDIENTS:
We value you as a customer and your satisfaction is very important to us. We will gladly replace any item that may have been damaged during shipping. Please note that due to the nature of our beauty products, we are unable to offer any returns or exchanges.
Works well with:
TOTALLY CLEAN:
Posted by Cassaundra Smith on 28th May 2021
Our Sweet Relief Cream has an easily absorbed light texture with a mild herbaceous mint aroma which creates a cooling sensation on the skin. The OptiMSM™ used in this formula is USA sourced, non gmo, and non shellfish derived. Reap all the skin, muscle, and joint loving benefits in this unique combination of full spectrum hemp extract, msm, arnica, and essential oils. Each 4oz jar contains 500mg of CBD from full spectrum hemp extract grown with organic farming practices.
Sweet Moisture Hand & Body Lotion
Bundle our popular Sweet Moisture and Sweet Relief and save $10.
Enjoy the calming and healing properties of full spectrum CBD in our super moisturizing body lotion blended with natural and organic oils. With a light and silky feel this lotion easily absorbs and leaves your skin feeling soft. This lotion is scented with natural and organic essential oils. It has a soft floral scent with mild woody undertones, a very relaxing combination of essential oils. Each bottle contains 100mg of CBD from full spectrum hemp extract grown with organic farming practices.
Ingredients: Organic Aloe Leaf Juice, Organic Coconut Oil, MSM, Emulsifying Wax, Stearic Acid, Cetyl Alcohol, Hydroxyethyl Cellulose, Glycerin, Organic Arnica Flower Extract, Sweet Basil*, Black Pepper*, Roman Chamomile*, German Chamomile*, Cinnamon Leaf*, Citronella*, Eucalyptus*, Helichrysum*, Ginger Root*, Pink Grapefruit*, Juniper Berry*, Lemongrass*, Peppermint*, Pine Needle*, Ravensara*, Rosemary*, Spearmint*, Wild Oregano*, Organic Cypress*, Sweet Fennel*, Lemon*, Lavender*, Organic Alcohol, Phenoxyethanol, Caprylyl Glycol, Sorbic Acid. *essential
Directions: Apply to clean dry skin as often as desired.
Directions: Apply liberally to sore muscles and joints. Avoid eyes and mucus membranes. Wash your hands after application. Reapply as needed, 3-4 times a day. Better results with continuous use. Keep out of reach of children.
Sweet Relief Muscle and Joint Cream