Coconut Sago Pudding with Corn Recipe Ingredients:• 3 corn on a cob, slice kernel off• ½ cup pearl sago• 2 cups water• 1 1/2 cup coconut milk• ½ cup sugar• 2 pinches of saltRecipe Steps:• Rinse sago pearls under cold water for 1 minute. This will help the sago pearls cook faster.• Bring water to a boil in medium saucepan over medium high heat. Add sago pearls. Cook for about 10 to 12 minutes or until sago becomes translucent. Stirring frequently to prevent sago from sticking to the bottom of the pan.• Drain the sago pearls in a strainer and rinse under cold running water. Set aside.• In a medium saucepan, bring coconut milk, salt and sugar to simmer. Add sago pearls and corn. Cook until pudding becomes slightly thickened (about 3 minutes). Let cool for 15 minutes.• Serve warm or cold.• Serving Size: 4 Preparation Time: 30 minutes Coconut Sago Pudding with Fresh Corn Recipe (sa-koo-nam-kra-ti-kao-pode)INGREDIENTS3 pandan leaves, tied into knot1 cup (200 g) Tapioca (small pearl)3 cups water1/3 cup sugar1 cup coconut cream2 fresh corn cobs, remove the corn kernels, or 1 cup frozen corn kernelspinch of saltMETHOD1. Soak tapioca in a large pot filled with water (in the recipe) few hours before making the pudding. However, if you run out of time, you can skip this process and add more boiling time for tapioca. 2. Place the pot filled with tapioca over medium-high heat. Put the knotted pandan leaves into the pot and bring the mixture to the boil.3. Once the mixture is boiling, reduce the heat to medium-low and continue to cook tapioca for another 5 – 8 minutes until the tapioca become translucent.4. Put coconut cream and corn kernels into the tapioca mixture. Continue cooking for a further 5 -8 minutes until the mixture is sticky and the corn is cooked through. 5. Mix in sugar and salt. 6. Serve the pudding at room temperature or slightly warm, with a dash of coconut milk on top (optional).
The 7cm long, finger-shaped fruits are show-stopping when they turn from green to orange and can be used for either ornamental or culinary use. These really are quite hot so take care when cooking with them unless you have an iron tummy! Heat level 3-4.
Sowing Advice
Surface-sow or barely cover the seeds indoors, and keep warm and moist. When sprouts appear move them to a sunny window. Set out well-developed transplants after last frost date when weather is warm. Peppers need rich moist soil and warm sunny conditions to flourish. Best sown in early spring.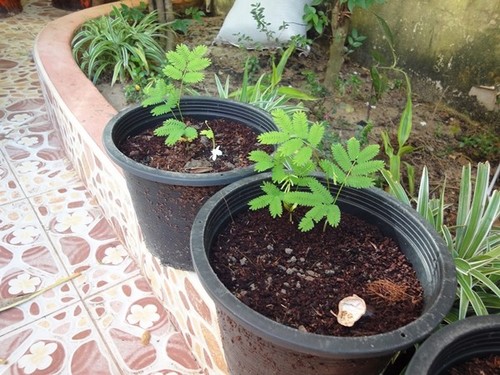 Quantity: 20 seeds for plant, Require EMS Service, THAI CHA-OM SENEGALIA PENNATA 20 seeds MIRACLE RARE VEGETABLE TROPICAL.
THAI CHA-OM SENEGALIA PENNATA 20 seeds MIRACLE RARE VEGETABLE TROPICAL