Once it reaches a height of 25cm, transplant the plant(s) to a container that is at least double the size of the first one. Once your plant hits the lofty heights of 80cm, move it to at least a 12-liter container. Once your plant hits a meter in height, you'll need an even bigger box. This process continues until harvest.
Sandy Soils
Battery acid and hydrochloric acid have a pH of 0, while liquid drain clearing fluid has a pH of 14. Ideally, your cannabis soil is slightly acidic. Most experts believe that the ideal pH is 6.0. However, you are on solid ground if your soil's pH is between 5.8 and 6.3. Your crop will survive outside of this range, but the yields are likely much smaller. If you stray too far from the 5.8-6.3 range, the plants will die.
Best Soil for Growing Weed Outdoors
It is unlikely that your cannabis soil will have the ideal drainage, texture, and water retaining abilities. Fortunately, there are a host of amendments available to alter the drainage, texture, and water-retaining capacity of your soil. Here are four of the most popular: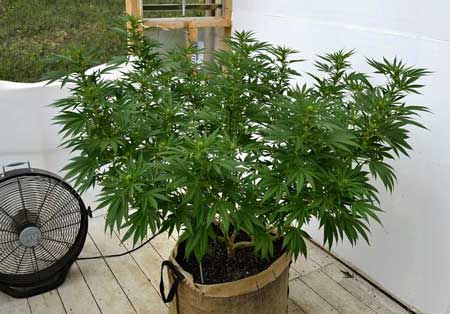 Coco Coir
Generally, anything labeled as an "organic potting mix" will work. This type of mix hasn't been amended with chemical slow-release nutrients, which is one of the main things you want to avoid with soil for cannabis. I know it sounds like heresy, but even the Miracle-Gro version of "organic potting mix" will work okay, because unlike their original potting mix it doesn't contain chemical nutrients (though it still has poor drainage and moisture retention – almost any other type of organic potting mix is better!).
Example of "Good" Cannabis Soil Ingredients
If you get the soil part right, you have almost everything you need to get to harvest! With the correct texture, drainage and water retention, you've got a perfect base. Add good soil cannabis nutrients, especially in the budding phase, and you should get to harvest with great results!
Bad Cannabis Soil
Cannabis soil should not have a whole lot of big visible wood chips in it. That means the soil hasn't been fully composted, and all the nutrients and goodness in that wood is mostly unavailable to your plants.
Organic Potting Mix
It's easy to get caught up thinking about what nutrients and amendments are in the soil, and those are important, but perhaps the most important aspect of any soil is actually its texture, ability to drain, and overall water "holding" ability.
Clay is just the opposite. When it's hot and dry, clay can become hard as a rock, making it difficult for roots to penetrate. Clay drains poorly and is hard to cultivate. On the plus side, it is rich in minerals and natural nutrients.
Just like humans, plants need the right nutrients. The most important ones for your cannabis plants are nitrogen (N), potassium (K) and phosphate (P). These make up the ratios you will typically see on fertilizer labels.
Soil Types
Sand is easily permeable for root growth, for instance, but it does not hold on to water or fertilizer well.
The optimal ratio for loam is 20% clay, 40% silt and 40% sand. Most folks think a pH of 6.0 is best for cannabis, with a range of 5.8 to 6.3 being acceptable. With a pH close to neutral, loam is typically in that zone or close to it.
Loam for Growing Marijuana & Other Crops
In addition, you do not necessarily have to provide costly soil for your plants outside. But for the best results, you want good marijuana soil that will help your plants grow healthy and happy. DripWorks is here to offer you a few simple tips for finding and creating the best soil for growing marijuana outdoors.