For example, it takes less time to grow 3′ weed plants than 5′ plants; in the span of a year, you can maybe grow four harvests of 3′ plants, or two harvests of 5′ plants.
Inevitably, there will be fluctuations of temperature and humidity in your cannabis garden. These fluctuations can occur both throughout a grow space as well as within pockets inside a given room. They can also occur at different points within a given day or throughout a season as conditions change in the environment outside your grow space.
Standard plastic containers are a popular option for growers operating on a budget. These pots are inexpensive and provide the essentials for your plants.
Equip yourself with these cheap and easy-to-use tools to take measurements in your indoor cannabis setup:
Daily maintenance checklist for your indoor marijuana grow
The two main types of HID lamp used for growing are:
The first step in odor control is making sure temperature and humidity are under control in your grow space—high temperature and humidity will perpetuate odors.
As your indoor weed plants grow, they'll need less attention, but you'll still need to check up on them every 2-3 days.
Regulating temperature
Soil is the most traditional medium for growing marijuana indoors, as well as the most forgiving, making it a good choice for first-time growers. Any high-quality potting soil will work, as long as it doesn't contain artificial extended release fertilizer—like Miracle Gro—which is unsuitable for growing good cannabis.
HID (high-intensity discharge) lights are the industry standard, widely used for their combination of output, efficiency, and value. They cost a bit more than incandescent or fluorescent fixtures, but produce far more light per unit of electricity used. Conversely, they are not as efficient as LED lighting, but they cost much less.
We've decided to write a full post on the exact materials needed to grow cannabis efficiently and affordably for all of the beginners out there that are a bit overwhelmed.
Materials needed to grow cannabis indoors | The first step
This calculation allows you to keep the temperature in your grow room at a 4C° difference compared to the outdoor temperature. If you're taking in 20C° air, your grow room will stay at 24C°.
5- Carbon filter for indoor growing / scrubber
HPS lighting: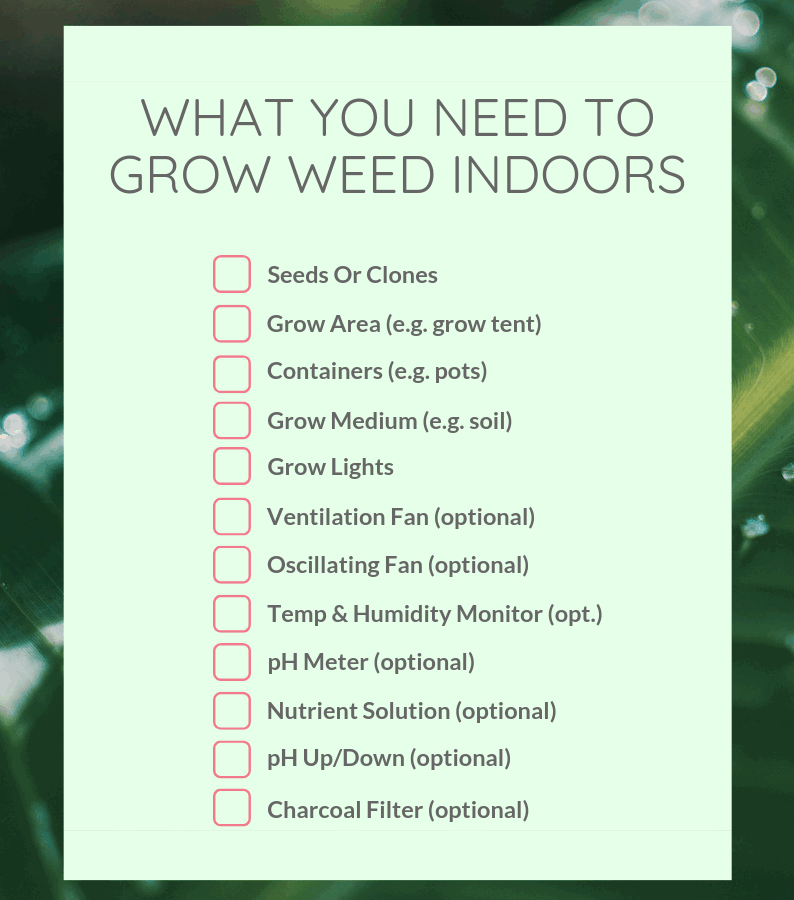 The first thing you need is a space in which to grow. This space can take any number of forms.
Seeds Or Clones
You will also want to put the lights on a timer, if your fixture does not have a built-in timer. That way you can schedule the lights to come on and switch off at certain times everyday, to mimic the natural daylight conditions plants would face outdoors.
LED Grow Light And Timer Recommendation
It is simple to grow and it grows fast. Like a weed.