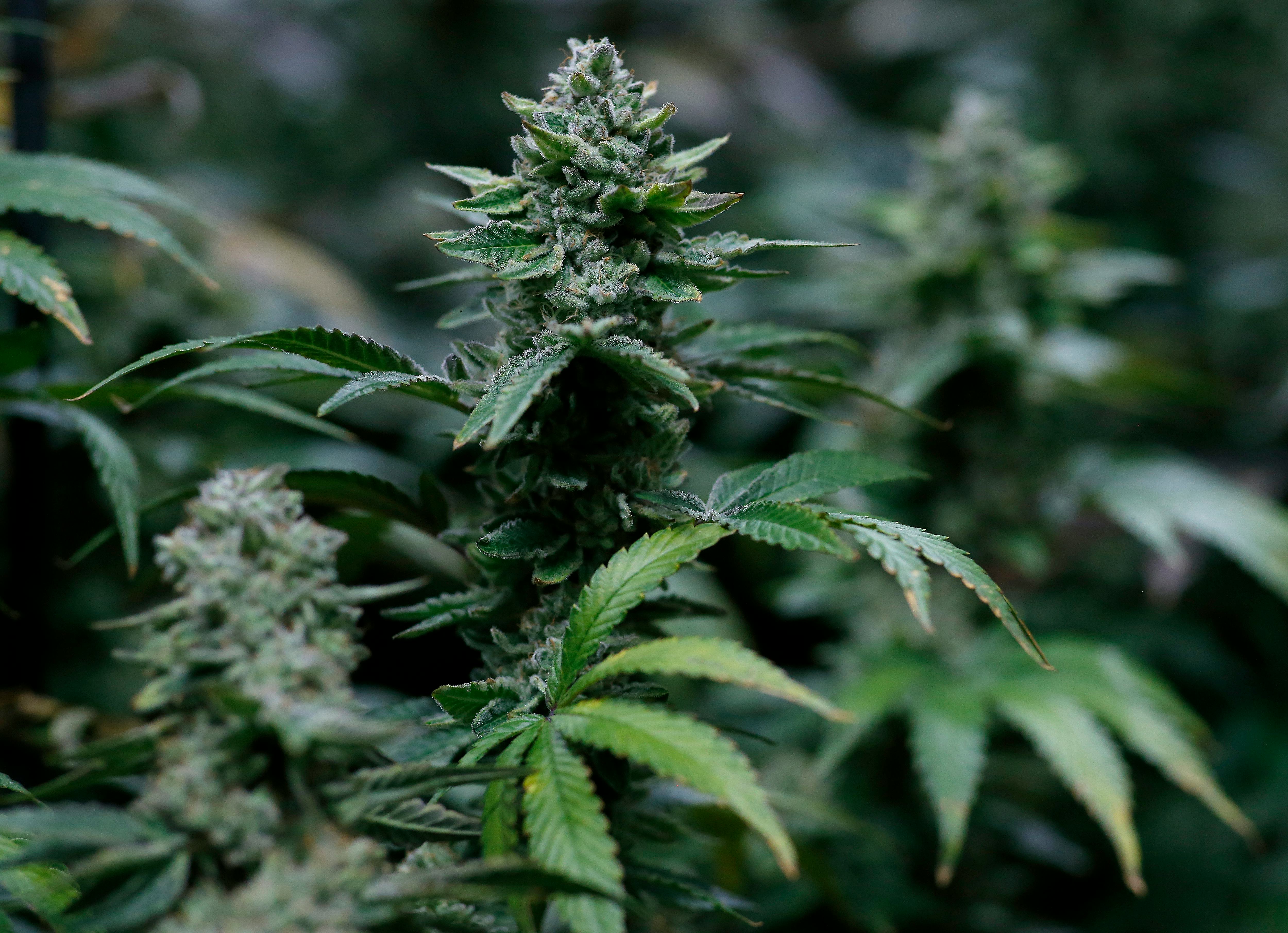 Whatever you do, don't plant your clones in the ground. They'll run rampant, and "you'll have pounds of weed in your house," Johnson says, recalling the trays of weed atop his kitchen table when his crop grew wild. "You don't need the stress of plants getting out of control, growing over your fence." If your neighbors can see them, they might complain about them, and having too many plants could get you arrested.
Cannabis cultivation laws vary widely state-by-state. Also, we can't stress this enough: Growing cannabis is illegal in a lot of places, and the penalties — which include steep fines and prison time — can be much worse than possession, since growing can imply an intent to distribute. Black and brown folx need to be especially scrupulous about heeding these rules, since law enforcement targets us way more than white people for weed-related charges, even if we consume it at similar rates.
Your cannabis will be ready to harvest at around October. You'll know they're ready when the buds "start to get really, really swollen and packed pretty tight," Johnson says. But it can be hard to tell if you're a beginner. Many growers say that if you think your plant is ready to harvest, wait two weeks, since many newbies tend to harvest too early. Or, you could share a photo of your crop on a forum and ask more experienced growers to weigh in.
Planting
When the pandemic hit, many of us turned to quaint pastimes to soothe our existential dread, whether it was baking sourdough, knitting, or doing jigsaw puzzles. If you want to expand your repertoire of distraction methods with an activity that still has that quiet, homey vibe, but with a bit more of an edge, consider growing your own weed.
Cannabis plants can be either male or female. Female plants yield the plump flowers, a.k.a., "buds," that we know and love, brimming with psychoactive compounds like tetrahydrocannabinol (THC, which gets you high), Modern Farmer explains. Male plants yield much smaller flowers, which people typically don't consume. In other words, if you want to actually indulge in your crop, you'll want female plants.
Before you get started
Johnson notes that the outdoor grow season lasts from around April to October, meaning if you plant seeds now, they'd still yield flower, but not much. Since it's late in the season, he suggests buying a large clone, which will have more branches and therefore yield more flower.
That said, when your plants are fully flowering, you might find yourself watering them daily, based on these indicators. When you do water them, keep going until you see water running off the soil, to ensure the water reaches all of the soil in the pot.

The last step involves curing the bud. "Curing is just as important as the growing process," Lipton added. "We do a slow cure, which means that it takes anywhere from three to six weeks depending on variety." Temperature and humidity play a large role during cure and must be maintained to ensure a great final product. "Our actual cure process is somewhat of a secret, so I cannot share the fine details," Lipton said. "But it's an art form and extremely crucial to our success." The reason growers cure bud after harvesting is that it creates a smoother smoke and increases its potency. Detailed recommendations for proper curing can be found online, here and here.
Though the 12-hour interval is fairly universal, knowing exactly when to induce flowering is less clear. For the home grower, it usually comes down to space; the longer one waits to trigger the flowering cycle, the taller their plant will be. A good rule of thumb: cannabis will only continue to grow 30 to 50 percent once the light source is reduced. If the plant is growing in a closet, growers should trigger the flowering cycle, understanding that there must be more than two feet of space between the canopy of the plant throughout the entirety of its life.
"Growing cannabis in tight spaces is not my usual recommendation," said Stephen Lipton, the cultivation manager at The Farm Recreational Marijuana Dispensary, an award-winning recreational facility in Boulder, Colorado, specializing in what it calls "craft cannabis." At any given time, Lipton oversees close to 15,000 plants across seven different facilities in Boulder County. "If you have a really tight space and it gets too hot or too humid, you're going to have big trouble."
Space: 3 x 3 x 5 feet, minimum. "The bigger the space, the better. With all the lights, closets get hot," Lipton said. That said, closets help growers control light pollution when the plant is in its flowering cycle — one of the main reasons home growers favor them over larger spaces, such as living rooms. "If you have a spare bedroom, or a basement even, you can just use that and close the door," Lipton said.
Harvest and cure.
Relative humidity: 30 to 45 percent. "If you live somewhere humid, you're probably going to want to buy a dehumidifier," said Lipton. "In Boulder, we sometimes have to add humidity." At home, that can be done with a reliable humidifier.
Another layer to consider is that cannabis cultivation must happen "out of plain sight." "You can't have any odor. If it's offending people in the neighborhood, then it's an issue."
To harvest, many growers begin by removing the leaves of the cannabis plant with trim scissors, followed by the buds (using pruners). "We call this bucking," Lipton said. "Gloves are also extremely important for sanitation reasons as well as to keep your hands from becoming sticky with the resin from the plant."
Trigger the flowering cycle.
For some people, cannabis cultivation is a hobby. Others a life-long passion. But it's unique in its vast demographic appeal. "Everyone I know grows," Lipton said. "There are people in their 20s doing it. I know people in their 60s. It's a fun thing for people. You don't have to be afraid anymore." Here are Lipton's tips on growing your first plant.
While most, if not all, medical and recreational farms cultivate cannabis from seeds, guaranteeing that their plants are free from viruses, most home growers, even those with experience, typically begin with clones — essentially trimmed pieces of female cannabis plants that have been rooted in separate pots. "When most people think of cannabis — you know, what you smoke — they're thinking about the flowers of female plants," Lipton said. "When you grow from seeds, half of them will be males. If you're only going to do one or two plants, you don't want to waste your time with that stuff." A clone sourced from a dispensary or a knowledgeable friend guarantees that the plant is female and will eventually produce bud pending proper care. "You can get up to four ounces off the right plant — if you know what you're doing."
The growth stages of marijuana can be broken down into four primary stages from seed to harvest:
Without proper airflow, a grow space can experience rapid changes in humidity or develop pockets of CO2 depletion, neither of which are good for plant growth. CO2 depletion can lead to nutrient lockout, and areas of high humidity are prone to pest infestation, mold, or mildew.
Even in legal states, you may want to conceal your crop from judgmental neighbors and definitely from potential thieves. Growing indoors allows you to grow discreetly behind a locked door.
The flowering stage will always take about eight weeks—some strains take seven, some nine, some even more, it depends on the strain.
Equipment
Plants in the vegetative stage maintain a low odor as they haven't begun to produce terpenes, the plant's aromatic compounds. As weed plants transition into the flowering phase, trichomes will start to develop and produce terpenes, causing them to smell more.
You can also use a timer for your fans, but a thermostat is better—you can set it to a specific temperature, and the fans will turn on when it's too hot and turn off when it's too cold.
Cannabis, like all plants, prefers certain environmental conditions in order to thrive. Temperature, humidity, light intensity, and airflow are all factors that will need to be monitored and regulated in order to keep cannabis healthy through its different phases.
Air circulation
Think of all the equipment in your grow space as organs in the body—if one fails, the others will have to work a lot harder for a bit, and then will fail in a matter of time.
For example, it takes less time to grow 3′ weed plants than 5′ plants; in the span of a year, you can maybe grow four harvests of 3′ plants, or two harvests of 5′ plants.