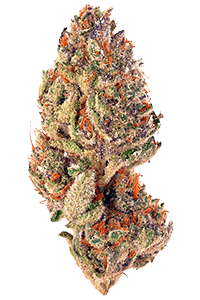 However, this does not mean you can walk away from your crop and expect it to do all the work. Instead, a little bit of TLC goes a long way, and you'll soon find tropical-tasting weed that's unlike anything you've ever experienced.
Meet Tropicana Cookies — a delightful sativa-dominant hybrid that'll have you surfing massive waves of bliss for hours on end. From gloriously frosty buds to jaw-dropping yields, you'll always keep the Tropicanna Cookies strain on the roster.
Yield
Who said amazing weed is challenging to grow?
As the effects wane, a satisfying relaxation spreads throughout the body. Once complete, you won't experience a "hangover" found in other potent varieties.
Background
Caryophyllene and limonene are responsible for the spicy-citrus-tropical collaboration. Humulene is found in hops, which lends Tropicana Cookies its earthy sweetness that gets better after each hit.
Bred and Selected by HarrryPalms
Lineage: GSC x Tangie
Tropicanna Cookies Awards
Moon Fruit Tropicanna Cookies x Oreoz Panama Jakk Tropicanna Cookies x Peanut Butter Breath Tropicanna Banana Tropicanna Cookies x Banana Kush Mango Juice Tropicanna Cookies x Somango Trop Drops Tropicanna Cookies x Sour Apple Tropicana Shoes Tropicanna Cookies x Cement Shoes Blow Trops Tropicanna Cookies x Blowpops Jacky Moon Tropicanna Cookies x CaliSunset Malibu Marsha Tropicanna Cookies probably x Cookies & Cream F2 Paradise Circus Tropicanna Cookies x Tina
Tropicanna Cookies Hybrids & Crossbreeds
Our strain reviews are multilingual, searchable and can be very detailed – including data about the grow, aroma, effects and taste! Please upload your Tropicanna Cookies Review here to help the other seedfinder users!