These fluorescent lights are cheap and efficient and great for vegetative growth. They're especially great for helping along germinating seeds and small seedlings because they don't put off much heat and won't scorch the delicate seeds. They won't run up your electricity bill too much.
For HIDs, light occurs as an arc between two nodes inside the bulb. The gas contained in these bulbs is what makes MHs and HPSs different. HID bulbs are usually more expensive than the reflective hoods that hold them.
When growing outdoors you can harness the power of the sun, but in an indoor environment, sunlight is mimicked through the use of grow light bulbs, which aim to display the same spectrum of light as the sun.
Fixtures come in all shapes and sizes and can usually accommodate 4-12 long fluorescent bulbs; a standard size is 8 bulbs. Fixtures usually have a reflective material to bounce light in one direction, down on your plants.
HPS (High-pressure sodium)
Lights have fixtures and bulbs, and some require a ballast. Depending on the type and model, the bulbs or the fixtures can be more expensive. There are a lot of abbreviations, but don't be alarmed.
There are many different kinds of lights out there, so it can be daunting to know where to begin. Here's a guide to four basic types of grow lights on the market and the pros and cons of each.
However, because of their low price, if you're new to indoor growing and not sure how often you'll do it, you may want to invest in an inexpensive HID light at first to test the water.
Types of marijuana grow lights
HIDs have been the standard in indoor weed growing for decades, but LEDs are quickly catching up to them.
Some grow lights are more expensive than others, but also more efficient, saving money in the long run. Some lights are bulky with many parts, some light in weight, and some are better suited for young or mature plants.
The only possible downside of these lights for growing weed is their sound. Some people may find the fans a little noisy (when compared to less powerful lights).
This superior energy-efficiency doesn't come at the cost of light intensity since the Advanced Platinum LED light also boasts of having one of the highest PAR (Photosynthetic Active Radiation) on the market. It's also broad-spectrum (since it's LED) which means less work for you.
Kelvins
What type of light is best for growing plants indoors?
The downsides of this light are that it is rather noisy and doesn't include dimming options. However, it still deserves a spot on our top 10 list.
1. Roleadro LED Panel
If you are looking for a great value, this light should be on your list. It is full-spectrum, and also optimized for marijuana growing because it includes dimmers that help the plants "think" the days are getting shorter. However, if you are growing autoflowers, this isn't something you'd need to be concerned about.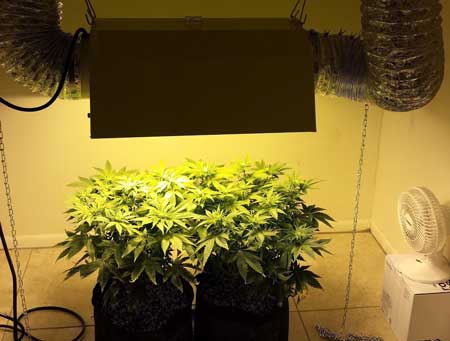 Full tutorial on MH & HPS grow lights
(most common grow light combination for cannabis)
Cons of Fluorescents
Metal Halide grow lights are generally used for the vegetative stage because they produce a bluish light that vegetative plants love, though this type of light can also be used all the way to harvest.
That being said, when it comes to the flowering/budding stage, if you can fit a bigger light you will get significantly better yields/watt by using an HID or LED grow light!
"LEC" and "CMH" both refer to Ceramic Metal Halide grow lights, which is a type of HID light that is a bit more efficient than a regular Metal Halide light
CFL grow lights are the twisty-looking bulbs you can find anywhere you normally buy light bulbs. They produce a great spectrum for growing cannabis and can be used in tiny spaces where no other grow light would fit such as the inside of a cabinet.
Metal Halide (MH) Grow Lights