The last place on my list is reserved for Growstar UFO LED grow light. Not because it's the worst, but because it can cover only a small grow area, which makes it good for use with a single plant or as a secondary lighting.
The main reason this grow light is on the list in the first place is its central chip-on-board (COB) LED from Cree, and the ideal color spectrum for weed farming. COB LEDs are more powerful than standard LEDs, which allows them to penetrate deeper into the canopy. They also emit full-spectrum light that weed plants love.
But, before I start talking about different types of grow lights and which ones are best for what, I have to talk about the light spectrum.
Furthermore, they come in different types, forms, and at varying price points. You can choose between HID lights, Fluorescent lights, and LED lights. Some are more affordable than others, and all come with their own sets of pros and cons.
#4 Roleadro Galaxyhydro Series 1000W
Growstar 300W UFO LED Grow Light
On the other hand, if your ganja is in its flowering stage, it will require more red light than infrared light. A grow light that can emit light between 620 and 780nm is ideal, but you can go for one that emits light slightly higher on the spectrum.
They are favored amongst growers that don't want to hassle with complicated ventilation setups or don't want to have loud cooling fans in their grow space. Furthermore, fluorescent grow lights are cheap and use less electricity than HID lights.
#3 Sun System Grow Lights
For a budget grow light, the Growstar comes with an impressive warranty. The manufacturer gives you a 2-year warranty and a 30-day return guarantee if you're not satisfied with it.
This is not the end of cool features this budget device delivers. Unlike other cheap grow lights, this one comes with the ability to daisy-chain multiple units for a larger grow space. The one thing Growstar shares with other budget grow lights is it's nonexistent water resistance. This doesn't mean it's low quality, it means you should be careful with water around it.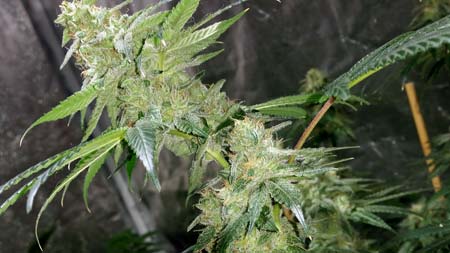 You want to use the most cutting-edge indoor cannabis grow lights with a customized spectrum of light
3 Main Types of LED Grow Lights
There are 3 main types of LEDs that are most commonly used for growing cannabis. Each type of model has its pros and cons, so there isn't yet a "best" LED type. Some are better for some situations than other.
Introduction: Are LEDs a Good Choice for Growing Cannabis?
ViparSpectra PAR700 (Dimmable, Pro Series)
Optimize your indoor marijuana garden for better yields, flavor, and aroma with cannabis education from CTU!
This kit comes with 8 6500K bulbs, hanging hooks and chains, and an 8-foot power cord. 2 switches on the body enable you to dim 4 inner or outer bulbs based on your needs. Best of all, it comes with a 5-year warranty.
Its dimmable full-spectrum design allows you to grow cannabis during all stages of growth. Its waterproof power supply is perfect for growing in humid environments. It comes with a three-year warranty and a 30-day money-back guarantee.
Sun System brings you this compact HID light fixture, perfect for small spaces. Its 150-watt HPS bulb can produce an incredible 16000 lumens. Reflective aluminum inserts provide exceptional lighting while vented housing reduces the heat produced by the bulbs.
10. Advanced Platinum Series 12-Band LED
Its VEG and FLOWER switches come with a high-speed fan and aluminum heat sinks for better cooling. It's the ideal LED light for 4.5' x 4' gardens. Enjoy a 5-year warranty and 90-day satisfaction or return guarantee.
Its Super Lumens feature delivers a lighting boost when needed. Bulbs can be dimmed from 50 to 100% of the power.
These fixtures are perfect for a 15 square foot garden. All E-Series models can be remote-controlled by the Gavita Master Controllers, eliminating the use of timers and contactors. Now, that's convenience! Plus, you get a 1-year warranty on the lamp.
4. Durolux T5 HO Grow Lights
Cannabis grow lights are a critical factor in any indoor garden. Lights stimulate photosynthesis for healthy plant development and growth. Choosing one that fits your budget and indoor needs can be difficult.
The kit comes with a Slim Line ballast standard featuring a slim design and larger heat sinks for better cooling compared to its competitors.