Here again is the equipment you can use to help you attain these levels:
What are the most important points of growing a consistent crop to build your brand? Again, borrowing from the winemaker's metaphor, it's all about what you're growing, where you're growing it and the conditions it's grown under. Below, we'll look at how to create the best growing environment, with a focus on humidity and temperature controls .
As the number and size of dispensaries grow, so do consumer expectations of the quality of marijuana products and the availability of diverse and unique brands. As in the wine industry, premier brand names can command a price ten or more times that of an average product.
On top of the need for specific temperature and humidity controls throughout the growing process, it's worth mentioning that humidity level during the drying process is equally important to the quality of the final product.
Drying Room Conditions
Whichever method you choose for trimming your product, suitable conditions for your drying room are important. You'll want a cool, dark environment with temperatures in the range of 59-71°F and humidity at or near 50% . Yes, even after the growing process is completed, you still need to be concerned with temperature and humidity.
While not strictly a necessity, the following can have a direct impact on yield, flavor and appearance:
The curing process breaks down chlorophyll remaining in the plant, resulting in a less-harsh taste. Remember: harsh buds are not quality buds. These procedures can enhance the shelf-life of a crop, which is highly important with a product like cannabis that isn't afforded the addition of preservatives.
The Four Stages of Plant Cycle
As you probably already know, after choosing a substrate (the material you'll be growing your plants in/on), the strain(s) of cannabis you'll be growing, lights, watering mechanisms and nutrients needed, the most important element of your day-to-day operation will be managing temperature and humidity.
To start with, relative humidity is determined by how much water vapor the air can hold at a specific temperature. Warm air can hold more water than cold air, so the warmer the air is, the higher the relative humidity will be .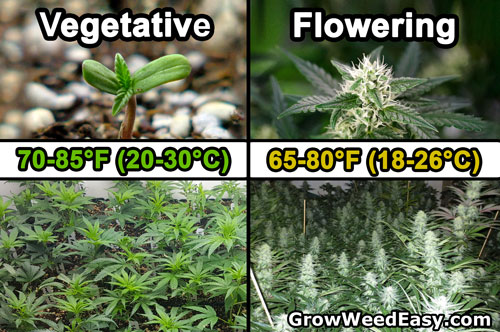 Exhaust System: Make sure you have a sound exhaust system to pull out hot air and increase air circulation to your plants. If you don't have an exhaust fan pulling hot air from your grow lights outside, fixing that is your first step. Remember! An exhaust system is important not only keeps temps down; it improves the air circulation your plants need to thrive. Learn how to set up a proper exhaust system here: https://www.growweedeasy.com/hps-grow-lights-setup
Learn About LEC/CMH grow lights (highly recommended as it seems to beat other HID lights for yields, smell, and trichome production)
Please note temps above 80°F (26°C) in the flowering stage will slow down bud growth and may cause them to become airy and loose. The heat can also reduce the potency and smell of your buds. Keeping the grow room temperature under control is especially important in the flowering/budding stage!
And while you're here…
7 Essential Concepts About Temperature Control
Tip: Use Temperature to Help Control Growth!
What that means is if your buds stay too hot during the flowering stage, the higher temperature may accidentally be burning away some of your terpenes and cannabinoids (reducing the final taste/smell/potency of your buds after harvest).
With a properly insulated grow box, your grow lights will likely provide enough heat to keep your cannabis plants warm unless you live in a freezing cold area, or perhaps if you're in the middle of winter or a cold spell.
Temperature & Humidity Adjustment Cheat Sheet
Consider Getting Different or Smaller Grow Lights: Learn about different grow setups.
Be Prepared For When the Electricity Goes Out!
If you need to increase the temperature, you can use a variety of traditional heating options, including electric, gas and other sorts of heaters typically used in homes or commercial buildings. Heat lamps and insulation are other possibilities, while heat mats underneath containers can warm the soil. In larger spaces, a fan can help circulate warm air so all plants can benefit from it equally.
You will also want to be sure to provide your plants just the right amount of fertilizer. Many commercial fertilizers specifically formulated for cannabis are on the market. You can also mix your own with fertilizers high in nitrogen, phosphorus and potassium. If you do have a drip system set up, fertilizer injectors will help you as well.
To help you get the most out of your pot-growing efforts, DripWorks has put together some basic tips to help you achieve the ideal grow room conditions for growing cannabis indoors. Whether you are growing one marijuana plant or a thousand, these ideas for perfect grow room conditions should help you get the most out of your efforts.
Also consider humidity. Depending on the stage of growth, pot plants generally like relative humidity from 40% to 70%. Conditions that are too humid can lead to disease, molds and fungus. Extremely dry conditions can retard the growth of your pot plants.
How to Get Sunlight & Fertilizer for Indoor Cannabis Plants
A grow room might be as small as a closet or as big as a barn. No matter the size of your grow room setup, you want to pamper your plants for maximum growth and strength.
You can buy all the parts necessary for a drip system individually and assemble them yourself, but drip irrigation kits offer an easier and more economical option. They give you everything you need and can be assembled in as little as a few hours. By adding an automatic timer, you can even ensure your plants regular watering when you are away.
In addition to high summer temps outside, grow lights themselves can cause excessive heat. If you are battling high heat, look for lights that emit less heat. In addition, you can use fans or portable air conditioners to cool your grow room to the proper temperature.
Watering Cannabis
Just like people, plants do their best in a particular temperature range. Generally, pot plants in their vegetative stage prefer a temperature in a range from about 68 to about 77 degrees Fahrenheit. When they are flowering, cannabis plants like a range of about 65 to 85 degrees Fahrenheit. They can live in lower and higher temperature, but since you can control the heat simply indoors, why not give them what they want for maximum growth and potency?
Pot plants need plenty of sun to grow too. But indoors they will be shielded from Old Sol. To substitute for the sun, a wide choice of grow lights is available on the market, making it easy to meet your growing needs and your budget.