Every space is different and there will be a learning curve to growing in yours.
Privacy and security
When growing weed indoors, you'll likely have to add nutrients to your plants. You won't need to add nutrients every time you water, but get on a schedule where you water every other time, or two on, one off.
Caring for your indoor cannabis plants
There should be a comfortable airflow both above and below the canopy, and fans shouldn't blow air directly onto plants—this can cause wind burn, which makes leaves recede into a claw-like deformation.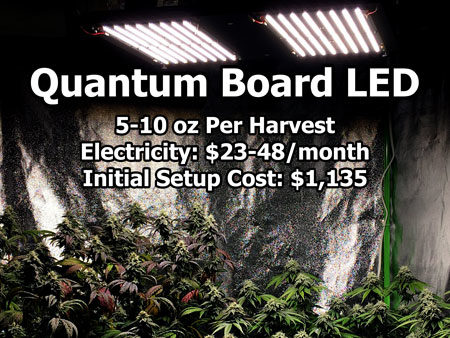 Average Electricity Cost: $10-20/month
Learn the basics of growing weed: Beginner's Guide
100W LED Grow Light in Mini Tent
This page will lead you to some setup shopping lists for a handful of the most popular styles of growing cannabis. You can use the information below to help decide which type of lighting you want to use if you don't already know. The type of lighting you use will steer you towards some guides that will show you everything that's needed to get started growing potent homegrown cannabis. You'll get the initial setup cost, the cost to reach your first harvest (the highest cost), and the cost of subsequent harvests (much cheaper after the first).
600W MH/HPS
Average Electricity Cost: $46/month