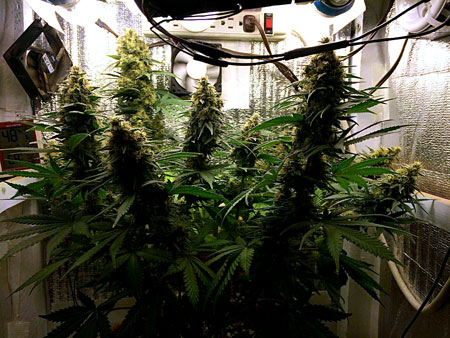 Why not let plants grow naturally? Cannabis naturally grows in a "Christmas Tree" shape that is optimized for sunlight, not grow lights. Unlike the sun, cannabis grow lights do not rise and set every day, providing light from the sides. Furthermore, indoor grow lights have almost no penetration when compared against the sun; the light from a 1000W HPS is usable for a few feet while light from the sun is usable to plants after traveling 93 million miles!
But… keeping them too close can severely hurt your plant!
Damaging or Removing Parts of the Plant
*Illinois and Washington are adult-use states but require a medical card to homegrow.
Check out our Guide to marijuana legalization for more details on homegrowing in your state.
Because the plant was illegal for so long, a lot of grow info has been passed down by word of mouth. There are many myths and traditions about growing weed, so it can be hard to sort good, sound advice from hearsay. Also, because it was illegal, there's ample information on indoor growing and how to get the most out of a small space by maximizing harvests and training plants.
What does a marijuana plant need to survive and thrive?
Growing outdoors is the cheapest and easiest way to grow, because you can utilize the power of the sun and other natural resources, but you need the proper space to do it, and the space needs to be able to get ample sunlight throughout the growing season. Often, you can let plants grow large and get big yields with more space outdoors.
Growing weed is super easy—it's called "weed" for a reason—so don't worry if you haven't grown anything before. Our clear, easy-to-digest guide will help growers of all kinds, especially first-time ones.
Quick overview of the basics of growing marijuana
These are all great resources but not all growers want to put in that amount of time and effort to get a ton of weed—some growers just want to have fun, grow a little weed, and smoke something they grew themselves.
Note that "mature" plants are those in the flowering stage, when plants begin to produce buds; "immature" plants are those in the vegetative stage, before they produce buds. A "household" is defined as two or more people living at a single residence.
Check out THIS video to watch me top a plant in Grobo ! (Skip to 4:30)
2. Fimming (F***, I Missed)
Lollipopping will get rid of the extra, unwanted parts of your cannabis plant so that your young plant can put its energy into growing bigger buds and giving you a better yield in the end.
5. Monster Cropping
Maybe you've never grown before, or maybe you're ready to take your cultivation game to the next level, whatever the challenge, Grobo is here for you. One of our passions at Grobo is sharing our growing knowledge with you so you can become a more confident and successful grower.