With the lights off, drying net in place, and exhaust fan running at 50%, air humidity slowly drops. Your buds are dry as soon as bending branches makes them snap.
The transition from the growth to the flowering stage is marked by serious stretching. The cannabis plants soar up to the tent roof; some strains can triple their height at this point. Take this into account to make sure your plants fit your grow space.
Once the seeds become seedlings, with roots showing on the sides and bottom of the grow plus (usually after about four days), they're ready for planting. I start with small P9 size flower pots. I'll leave them for 7 to 11 days to give the roots time to develop, creating a stable habitat.
After germination comes the vegetative or growth stage of the cannabis life cycle. In indoor conditions, the plants will keep on growing as long as they get 18 hours of light. This is a 16-8 lighting regime (18+6=24, i.e., a whole day). Autoflower strains are an exception; these switch from growth to flowering automatically.
Can I Trim Yet?
Harvesting and drying your buds can be done in various ways as well. You can let the buds dry first and trim them later, but some prefer to do it the other way around. In that case, branches loaded with buds are hung upside-down in the tent to dry before trimming. The downside is that your precious trichomes dry out, making them brittle and easy to lose while trimming.
Nibameca.
My biggest mistake ever was leaving the lights on after flowering in the room where I set up my tent. Sadly, the tent wasn't light-proof, so my plants got stressed out and turned into hermaphrodites. The result: a whole harvest full of seeds that was no use at all… Fourteen weeks of work down the drain! I also made the mistake of pumping out my entire 60L nutrient mix tank in one go once. Pretty bad for plants capable of handling 10 litres at once max…
From Growth To Flowering
Personally, I just love the flowering stage. You can watch the buds develop, rewarding your hard work so far. Still, the flowering stage comes with its own particular risks. As your budding colas flower, the lovely aroma of fresh weed spreads. Of course, we don't want to share that with neighbours and passers-by. That stresses the need to use proper filtering with exhaust fans and carbon filters. Here's a helpful tip in case you can't control the stink, or if your power blacks out: always have a bottle of vinegar handy! In case of emergence, put a pan of vinegar on the cooker. Yes, it smells awful, but the vinegar stench will also neutralize the odour of your weed!
LST, or low-stress training, simply amounts to bending and fixating your plants. This ensures maximum grow surface spread and enough light for optimal flowering across all branches.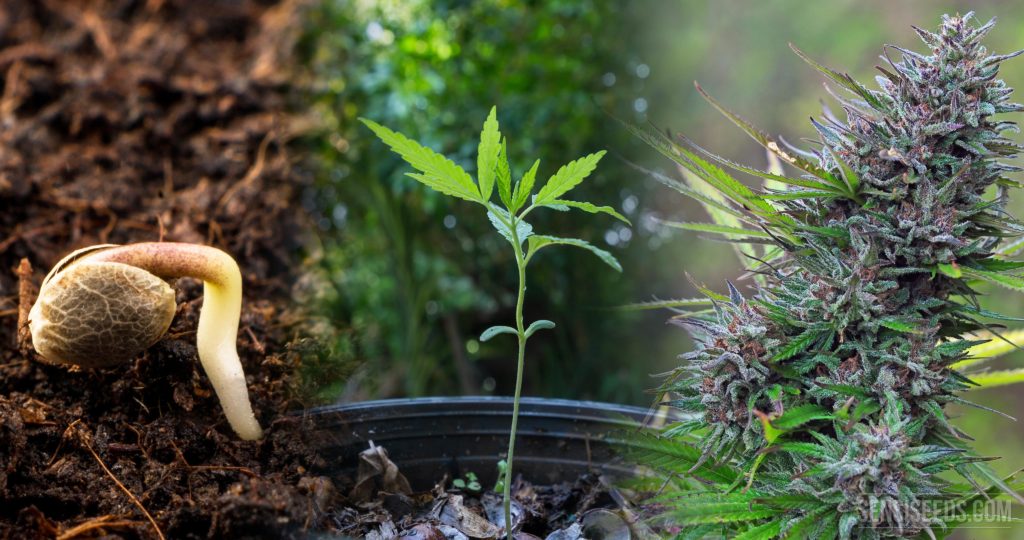 Cannabis is an annual plant, so its entire lifecycle takes place within a single year, with most varieties reaching the end of their life after between four and ten months. In general terms, the following four stages of life can be distinguished:
Related post
No matter why cannabis is being cultivated, to see with your own eyes how a small seed grows into a bulky plant, which then starts flowering, is a moving experience every time.
1 – Germination stage (1 to 2 weeks)
How long the seedling stage lasts depends on the variety and on the environmental conditions. The main focus of the plant is on developing a root system. This forms the foundation for its later growth.