In this discussion, we're going to list 13 of the best seed bank options, along with the pros and cons of each company.
13 Best Seed Banks That Ship to the USA (and beyond)
Crop King Seeds is well connected, with over 100 retail partners and a wide range of seeds, with better quality genetics and breeding selection.
3. Seedsman – Best Variety of Cannabis Seeds
Cons
When you purchase your weed from a qualified vendor you'll have the opportunity to smell it, feel it and to walk away knowing that you didn't get a seedy deal. All of this will make your monetary investment well worth every dollar, as you will achieve the quantity and quality you are looking for.
I found 1-3 seeds in my weed – We do not suggest growing with these seeds as they come from a stressed genetic background ( hermaphrodite plant).
You don't want to spend your hard-earned money, come home ready to relax with your latest weed purchase, only to find that it's full of seeds and not worth the money you invested. That said, even if you haven't had the misfortune of buying weed full of seeds, it's good to know the difference between good and bad weed, with or without a pesky seed invasion.
The buds should be fat, dense, and hard to squeeze. When you're able to look at the buds up close, you want to see if any seeds, stems, or leaves are easily identified. Beyond that you want to examine the color. The verdant nature of the bud is indicative of how healthy it is. Basically the richer the green color, the healthier the plant. This green is also a representation of how well treated the plant was before it reached you. If the curing and the drying process was conducted appropriately it will maintain its rich, green color. Cannabis of lower quality tends to be a dull green, or even brown.
Before You Buy
The best way to avoid seedy weed is to grow your own. If that isn't possible, purchase from a qualified vendor and not just your friend's brother down the street. If you're purchasing from a reputable establishment online or offline you will be able to verify the quality beforehand. You can ask questions to figure out how well the plant was treated and you can avoid otherwise low quality weed.
I found 10+ seeds in my weed – These seeds will give you a 50/50 chance of female/male plants. Usually these seeds occur from male plant fertilization. If you have the time and knowledge, grow them! Make sure you look out for those nanners as you get into flowering. Nanners are male pollen sacks that look like little bananas!
If you're feeling ambitious you can take the seeds out of your pot and try to grow from them. Here are a couple tips for determining whether or not to grow with the seeds you find:
Saving the Seeds

Male Pollen Sac

Purchasing weed with no seeds in it will get you better quantity and quality for the money you invest. The highest quality and most potent form of weed is that with no seeds. This weed is called Sinsemilla .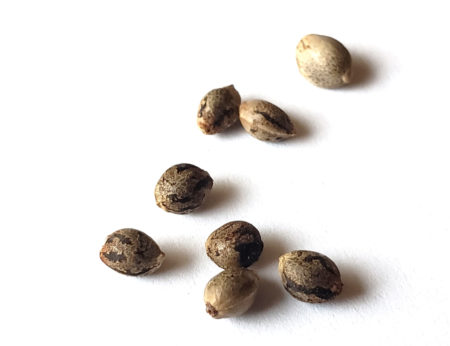 Seeds happen when pollen gets on the hairs (pistils) of buds as they're forming. In other words, seeds in weed are caused by pollination.
What causes seeds in buds?
Seedy buds are the result of pollination. What does that mean? Cannabis buds are flowers. Like other flowers, they make seeds when pollinated. Cannabis buds get pollinated when they come into contact with cannabis pollen while the buds are forming.
Does it mean the weed is bad?
Mature cannabis seeds are typically dark brown or tan (the brown is a coating that can be rubbed off), and relatively hard. Very pale or white seeds usually won't sprout.