The EC reading is how growers can tell how strong their solution is, and how mineral-rich the water is. The more minerals, the higher the EC rating will be. Generally speaking, a reading between 0.8 to 2.0 is appropriate for growing cannabis. When a plant is young, it will need a lower amount of nutrients as opposed to when it is flowering and growing quite big.
When growing hydroponically, you are responsible for providing all of the nutrients necessary for plants to survive. Nitrogen (N), Phosphorus (P), and Potassium (K) are the three essential nutrients for plant growth known as macronutrients. Additionally, there are secondary and micronutrients that will help the plant develop as well. These include Boron, Calcium, Copper, Iron, Magnesium, Sulfur, and Zinc.
Raising a plant with hydroponics is different in many ways from growing in a soil garden. One thing to consider is the support the plant is receiving. Unlike a plant growing in soil, plants in hydro mediums might be vulnerable to tipping or breaking. Trellising your garden will help to prevent this from happening and will also allow you to train your plants to grow in specific directions.
Nutrients for Hydroponic Cannabis
Whether you have grown cannabis before or have no experience growing cannabis whatsoever, hydroponics can be a great way to produce cannabis in any size space. At first it can be confusing and slightly overwhelming, but by learning the basics you will come to understand it's not as difficult as you imagined.
I n the previous post, we gave an overview of hydroponic gardening including its origins, the various systems and techniques, and medium options for a hydroponic grow. In this next article, we will focus how to use hydroponic systems specifically for growing cannabis.
With some hydroponic methods, you get to use small amounts of grow media that can often be reused while also precisely controlling what nutrients the plants are receiving and pH levels. With such levels of control, growers find that their buds are bigger, healthier and more potent.
Browse Hydroponic Growing Supplies
Hydroponic Cannabis Supplies:
While this system is built from the ground up, it should be noted that there are plenty of plug and play systems available for those looking for something that is easy to set up. Plug and play systems come with everything you need in a streamlined package to allow growers to get started on the right foot.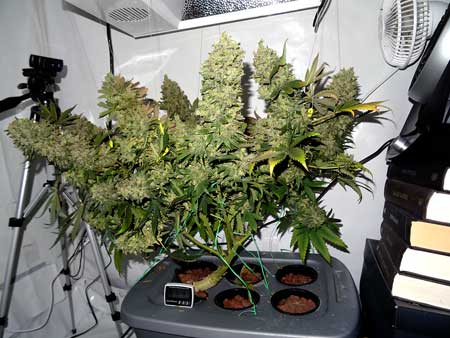 Cons of Hydro
Is Hydroponics Good for Growing Cannabis?
How to Grow Cannabis in DWC
When it comes to hydroponic cannabis…
Hydroponics is when you grow your cannabis plant in an inert medium like coco or a reservoir of water, and provide all the nutrients to the plant directly in the water.
Differences Between Soil & Hydro
Cons of Hydro
Pros of Hydro
As a cannabis cultivator, you have an array of choices when it comes to growing your own herb at home — outdoor, indoor, and greenhouse cultivation, to name a few. But what about hydroponic growing mediums? Could this futuristic-sounding, soil-free method be the right solution for you? In this beginner's guide to weed hydroponics, you'll learn everything you need to know to start your own hydroponic garden at home.
What is hydroponic growing?
A hydroponic garden may exhibit a growth rate that is between 30% and 50% faster than that of a soil plant. The combination of nutrients, water, and oxygen in the roots are responsible for this faster rate of growth in hydroponic systems.
How does hydroponic growing work?
Hydroponic growing is a horticultural method for growing crops, including cannabis, without the use of soil. Photo by: Gina Coleman/Weedmaps