To harvest, many growers begin by removing the leaves of the cannabis plant with trim scissors, followed by the buds (using pruners). "We call this bucking," Lipton said. "Gloves are also extremely important for sanitation reasons as well as to keep your hands from becoming sticky with the resin from the plant."
Even in our most progressive states, however, the law is far from simple. "In Colorado, it's now county-specific," Lipton said. "When the amendment first passed, they said you could grow six plants per person. But now, certain counties and municipalities have come out and said it's just six per house — there's no combining plant counts. That means you can have three vegetating and three flowering at any given time."
Though the 12-hour interval is fairly universal, knowing exactly when to induce flowering is less clear. For the home grower, it usually comes down to space; the longer one waits to trigger the flowering cycle, the taller their plant will be. A good rule of thumb: cannabis will only continue to grow 30 to 50 percent once the light source is reduced. If the plant is growing in a closet, growers should trigger the flowering cycle, understanding that there must be more than two feet of space between the canopy of the plant throughout the entirety of its life.
Despite the hurdles, many first-time growers still choose to cultivate cannabis indoors (which is legal in Alaska, Colorado, Washington D.C. and Oregon), and there are steps to maximize a plant's chances of succeeding. It all starts with a plant's genetics. "For your typical closet setup, you're going to want a plant that stays short," Lipton said. "A lot of time that means an indica. Sativas are really tall and lanky." (More on the difference between those two families here.)
Harvest and cure.
The last step involves curing the bud. "Curing is just as important as the growing process," Lipton added. "We do a slow cure, which means that it takes anywhere from three to six weeks depending on variety." Temperature and humidity play a large role during cure and must be maintained to ensure a great final product. "Our actual cure process is somewhat of a secret, so I cannot share the fine details," Lipton said. "But it's an art form and extremely crucial to our success." The reason growers cure bud after harvesting is that it creates a smoother smoke and increases its potency. Detailed recommendations for proper curing can be found online, here and here.
For some people, cannabis cultivation is a hobby. Others a life-long passion. But it's unique in its vast demographic appeal. "Everyone I know grows," Lipton said. "There are people in their 20s doing it. I know people in their 60s. It's a fun thing for people. You don't have to be afraid anymore." Here are Lipton's tips on growing your first plant.
pH of Water: 6.3 to 6.7. "You'll need a meter that you can stick into your water and tell you the pH," Lipton said. "You want something between 6.3 to 6.7 pH for watering your plants. That sounds like pretty sophisticated stuff but it's really not. A lot of times your tap water will be 7.8. You can use what they call pH down. That's a crucial step."
Foster the right growing environment.
Sticking to that schedule is key, he added. "Say you're at day 30 of the flowering cycle and you come into that closet when it's supposed to be dark and turn a bunch of lights on. You're going to throw the whole cycle off and that's the end of that. It only takes 10 seconds."
Presented by Florida Man DIPA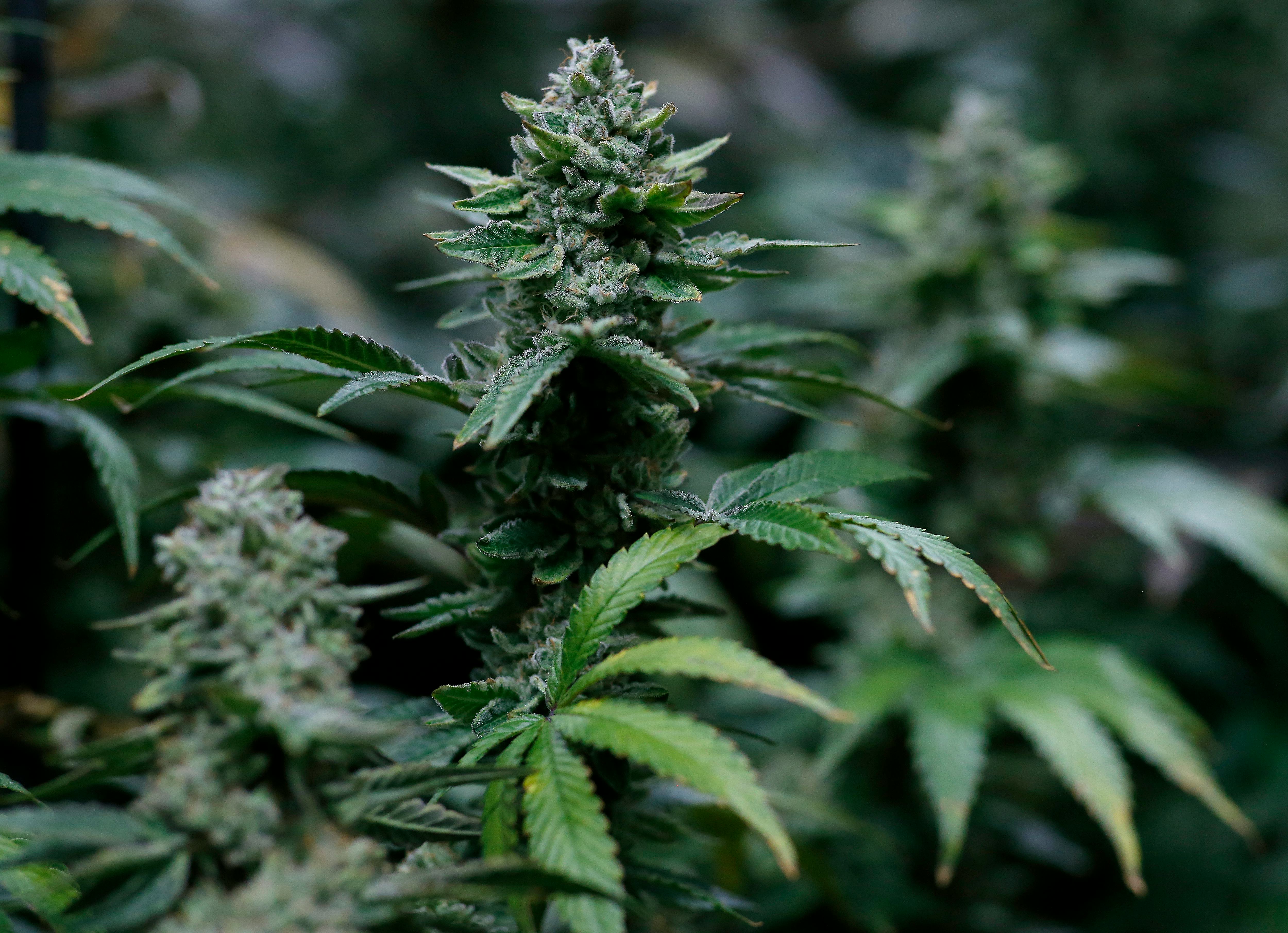 If you use organic soil, all you'll really need to do is add water, Johnson says — but don't overdo it. The number one mistake he sees new growers make is watering their plants too often. In general, "watering every day is too much. The rule is, if you pick up your plant, and the pot is heavy, then it has a enough water. If it's light, it's dry, then you need to water." You could also stick your finger knuckle-deep into the soil; if it feels dry, add water.
Since clones come from plants that have been grown indoors, let yours chill in a shaded area for a week before exposing them to full sun, Johnson says. "The clone hasn't tasted sun like that, and the transplant itself will be stressful."
Cannabis plants can be either male or female. Female plants yield the plump flowers, a.k.a., "buds," that we know and love, brimming with psychoactive compounds like tetrahydrocannabinol (THC, which gets you high), Modern Farmer explains. Male plants yield much smaller flowers, which people typically don't consume. In other words, if you want to actually indulge in your crop, you'll want female plants.
Upkeep
Do your homework and read up on the laws in your state. Some states prohibit growing cannabis, while others, like my home state of California, permits anyone over age 21 to grow cannabis, but only up to a certain number of plants. NORML has a pretty in-depth guide to the laws in each state. Colorado, Oregon, Nevada, Vermont, and Maine also allow cultivation, but again, the specifics depend on the state. Definitely clarify what your rights are before you start the glorious path to at-home bud gardening.
That said, when your plants are fully flowering, you might find yourself watering them daily, based on these indicators. When you do water them, keep going until you see water running off the soil, to ensure the water reaches all of the soil in the pot.
If you buy seeds from a seed bank, look for those labeled "feminized" to ensure they give rise to female plants, Johnson says. But if you're a total newbie, he suggests buying clones, which are cuttings from a "mother" female plant, available at some dispensaries, as well as at nurseries. Not only are they easier to obtain, "they're easier to grow. You get a clone, and you transplant it to some soil."
Planting
Cannabis cultivation laws vary widely state-by-state. Also, we can't stress this enough: Growing cannabis is illegal in a lot of places, and the penalties — which include steep fines and prison time — can be much worse than possession, since growing can imply an intent to distribute. Black and brown folx need to be especially scrupulous about heeding these rules, since law enforcement targets us way more than white people for weed-related charges, even if we consume it at similar rates.
Don't go overboard, though, he warns. Start with growing three plants in five-gallon pots. This way, if one dies, you'll still have two plants, and the pots will limit their growth. A general rule of thumb is that they'll grow one foot for every gallon of soil. He recommends mixing your own organic soil, which he explains how to do on his website and will save you the headache of adding nutrients or pH testing. "The soil is what we call alive," he says. "It's always breaking things down to replenish nutrients that are missing." But if you can't mix your own soil, or don't feel like it, you could buy organic Pro-Mix soil, which Johnson says many outdoor growers use.
Light emitting diode (LED) technology has been around for a while, and they are getting more efficient all the time. The main drawback to LED grow lights is their cost: well-designed fixtures can cost 10 times what a comparable HID setup would.
The two factors you need to control to dial in the environment are temperature and humidity.
Fluorescent grow lights
Plants need 18 hours of light a day when in the vegetative stage and 12 hours a day when flowering. The reduction in light from 18 to 12 hours a day is what triggers the flowering cycle—when weed plants start to grow buds.
Regulating temperature
Without proper airflow, a grow space can experience rapid changes in humidity or develop pockets of CO2 depletion, neither of which are good for plant growth. CO2 depletion can lead to nutrient lockout, and areas of high humidity are prone to pest infestation, mold, or mildew.