During the first half of the season, the daytime period increases until the summer solstice, which occurs in the Northern Hemisphere on or around June 21 and in the Southern Hemisphere on or around December 21. While the daylight hours increase, the plant's vegetative stage takes place. During vegetation, the plant will develop the roots and stems that will serve as the foundation for growth until flowering.
Season
Beneficial insects, fungi, and bacteria can also be used to protect your plants from their parasitic or predatory counterparts. Jumping spiders, ladybugs, and other native, beneficial predatory insects can clear your crop of insects such as aphids and whiteflies. When sourcing beneficial insects, fungi, or bacteria, it's important to research those which are native to your region.
Pest and weed control
When possible, use natural structures and formations in your garden as windbreaks to prevent excessive stress on your plants that could lead to branches breaking.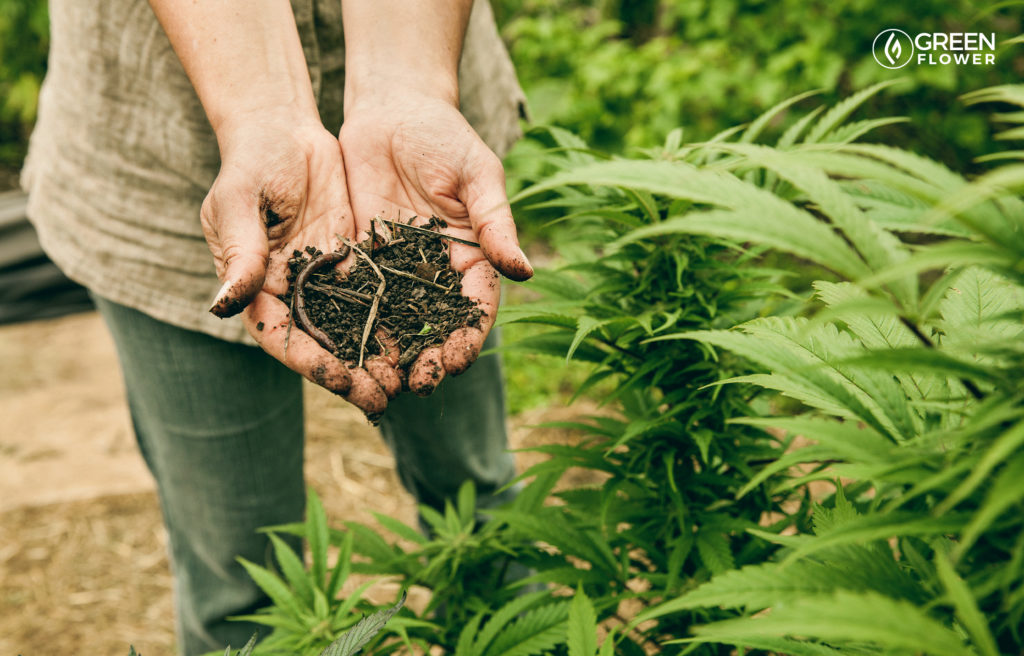 The foundation of a cannabis plant is its root base. The larger the root base, the larger the plant. The healthier the root base, the healthier the plant. How a cannabis plant grows and how healthy all of the parts of the plants in your garden will ultimately be determined by the plant's root base. If you want to grow big, you need a solid base.
Purchasing seeds online, or acquiring seeds or clones from dispensaries — even the most reputable dispensaries — can be a bit like rolling the dice (and blatantly illegal in many instances), so be leery of any claims about particular cannabis strains. If what the seller is saying seems too good to be true, it probably is.
Some cannabis strains do better growing outdoors under the sun than other strains. You will obviously be limited by what is available in your area, however, if you can find a strain in your area that is a notoriously solid outdoor strain to grow, go with it.
Soil, Containers, Sun, & Water
Knowing what factors are involved and what they entail before you start growing is vital to success. Rather than scrambling in the middle of the vegetative stage or flowering phase to try to incorporate strategies or mitigate disasters, when it is likely too late in the game, it's best to plan ahead.
Know ahead of time how long it will likely take to germinate the seed(s). Determine the best time to plant an outdoor cannabis plant where you live. Gather as much of the resources and materials you will need before you start planting.
Bracing Is Important
Test your water source ahead of time. Know what the pH level of the water is so that you know if it needs to be adjusted. Be aware that most city water has chlorine and other additives in it. Research what goes into your local water and take measures to mitigate what's in it as much as possible.
As your plant is growing, start out with no bracing. Let the wind shake the branches a bit in order to make the branches stronger — often referred to as 'low-stress training (LST).' Use a fan to keep a constant breeze on the plant if at all possible.