If your grow tent is adequately ventilated, the relative humidity is reduced due to increased air circulation. Ventilation is required for mature cannabis plants that require low relative humidity.
The high water gradient created between the plant and the surrounding air causes high water loss. The marijuana plant will try to prevent this by closing the stomata, a process that compromises the vital respiration process.
Did you know that mold infestation on one cannabis flower can ruin your entire harvest? Lowering the humidity in this stage is, therefore very crucial and should not be overlooked. The humidity can also be reduced below 40% when the cannabis is close to harvest. This, however, depends on how your cannabis plants respond to changes in humidity.
The carbon dioxide enters the plant via the stomata; tiny pores on the leaves. When this process occurs, some water from the plant's water reservoir is lost to the environment. Relative humidity kicks in here as it dictates how much water the cannabis plant will lose to the environment.
Ventilation
Cannabis plants are grown in a relative humidity range of 70-40%. This is neither too high nor too low humidity. As discussed above, both extremes of relative humidity are potential causes of cannabis plant stagnation. It is also good to understand that high humidity may support the growth of mold that may affect the growth of your marijuana plants.
Two scenarios can occur:
A good number of cannabis varieties have been developed over the years. Some cannabis species are adapted to warmer and more humid areas while others are adapted to cold and less humid areas.
Should Humidity Be Low Or High For Cannabis Plants?
To understand how humidity affects the growth of cannabis, let's first understand the plant's respiration process.
In conclusion, it can be said that humidity is an essential condition in the growth of cannabis plants. Always start with a high relative humidity of about 70% for your cannabis seedlings and reduce the moisture gradually until the plant is ready for harvest, where the humidity should be around 40%.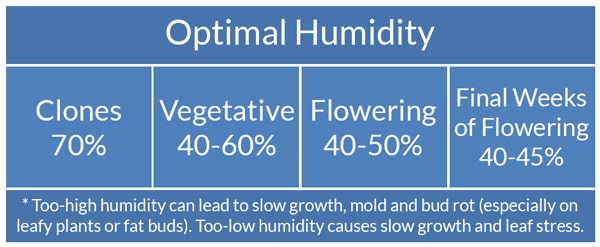 Humidity for drying buds (early stage cure)
Warm air can "hold onto" more water than cool air. Plants will tend to thrive at different relative humidities depending on the temperature of the air. Once the air becomes too saturated with water, it will tend to form dew or films of water over leaves, which leads to mold.
Swamp cooler – will cool down air while increasing the relative humidity; works best when humidity is too low and temperature is too high. Read how one user used a swamp cooler to control his humidity.
Here's what that means to you, the grower:
The ambient humidity near Denver is pretty low – the room I plan to grow in sits at 20% on average. Is this too low for my plants to be happy?