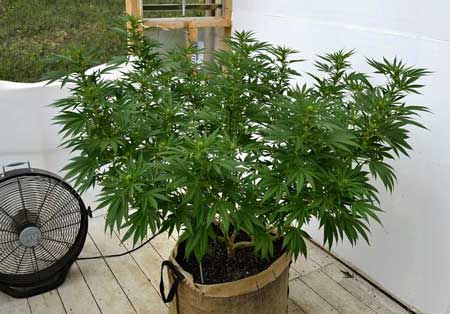 Vermiculite
It's easy to get caught up thinking about what nutrients and amendments are in the soil, and those are important, but perhaps the most important aspect of any soil is actually its texture, ability to drain, and overall water "holding" ability.
Signs of Good Cannabis Soil
This plant is growing in Fox Farm Ocean Forest Soil
Here's organic "super" soil up close
Texture, Drainage & Water Retention
Recommended soil nutrients:
We recommend these organic fertilizers:
For first-time growers, we recommend avoiding commercial fertilizers like long-release granular fertilizers. These can be used, but you need to have a good understanding of how they work and what your plants need.
Soil also varies in:
Soil has three basic consistencies, in various ratios:
Growing containers
Having a constant breeze is good for your plants, and especially in hot climates. But if you live in an area with a lot of high winds, consider planting near a windbreak of some sort, like a wall, fence or large shrubbery.
It's fun and relaxing
Here are some important considerations before starting an outdoor marijuana grow.
What size pot do I need?
Indoor grows can be wasteful, using a ton of electricity to power all those lights, fans, and other equipment. The sun and the wind are free!
These are just some examples of amendments commonly used in different types of soils. Heavily amended soils will have long lists that break down all organic nutrients they contain. Some companies create soils that offer a great structure with base nutrients, but allow you to fill in the gaps as you desire.
Designed for indoor and outdoor cultivation, Happy Frog potting soil takes care of young cannabis plants' essential needs, from correct pH levels to balanced nutrients, including a vital combination of microbes and fungi from earthworm castings and forest humus.
But just as important as what's in this soil is what's not: less perlite, less pumice, and fewer amendments. This makes Formula 707 a highly customizable soil, allowing you to add your topsoil and liquid nutrients at various growth stages depending on your cannabis plants' needs.
Nature's Living Soil Organic Super Soil
Still, Formula 707 has enough nutrients to last 10-14 days before you need to add anything. And for convenience, you can use the soil bag itself as a pot. Just cut off the top, poke some holes in the bottom, plant your seedlings and you're ready to grow.
Aurora Innovations Roots Organics Formula 707
At a price point that won't put a hole in your pocket, Black Gold boasts all of the essential traits of a strong soil for growing weed. Its loamy mixture contains an optimal blend of pumice and perlite for hydration and microorganism development, and its balanced nutrient blend won't burn young cannabis plants. Those features have won this soil praise from gardeners of all stripes, cannabis growers included.