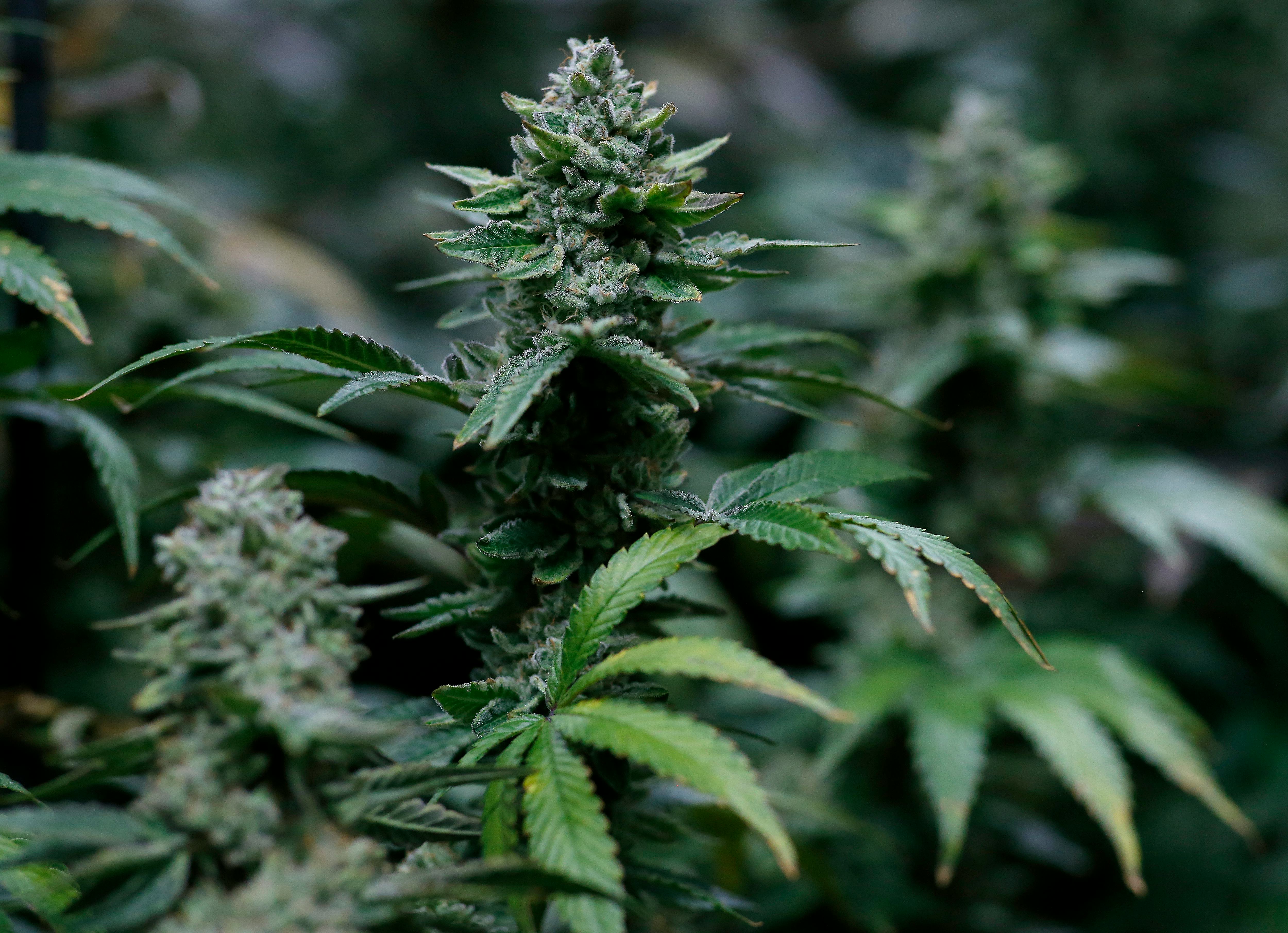 Johnson notes that the outdoor grow season lasts from around April to October, meaning if you plant seeds now, they'd still yield flower, but not much. Since it's late in the season, he suggests buying a large clone, which will have more branches and therefore yield more flower.
Since clones come from plants that have been grown indoors, let yours chill in a shaded area for a week before exposing them to full sun, Johnson says. "The clone hasn't tasted sun like that, and the transplant itself will be stressful."
Planting
Whatever you do, don't plant your clones in the ground. They'll run rampant, and "you'll have pounds of weed in your house," Johnson says, recalling the trays of weed atop his kitchen table when his crop grew wild. "You don't need the stress of plants getting out of control, growing over your fence." If your neighbors can see them, they might complain about them, and having too many plants could get you arrested.
If you use organic soil, all you'll really need to do is add water, Johnson says — but don't overdo it. The number one mistake he sees new growers make is watering their plants too often. In general, "watering every day is too much. The rule is, if you pick up your plant, and the pot is heavy, then it has a enough water. If it's light, it's dry, then you need to water." You could also stick your finger knuckle-deep into the soil; if it feels dry, add water.
Upkeep
To check if your cannabis is ready for trimming, perform a break test on each branch. If it bends so much it nearly breaks, then it's ready, and if it breaks right away, it might be overly dry, but still totally usable. Trim off the buds and seal them inside a mason jar for curing, opening it periodically over the course of about four weeks to let moisture escape. Johnson outlines a detailed schedule on his website, including instructions on how to look for mold.

Sticking to that schedule is key, he added. "Say you're at day 30 of the flowering cycle and you come into that closet when it's supposed to be dark and turn a bunch of lights on. You're going to throw the whole cycle off and that's the end of that. It only takes 10 seconds."
Even in our most progressive states, however, the law is far from simple. "In Colorado, it's now county-specific," Lipton said. "When the amendment first passed, they said you could grow six plants per person. But now, certain counties and municipalities have come out and said it's just six per house — there's no combining plant counts. That means you can have three vegetating and three flowering at any given time."
To understand the flowering cycle, it's important to remember that cannabis is a plant. And, like most plants, it follows the seasons. To trigger flowering — which will take 55 to 60 days to complete — growers reduce the time plants spend exposed to the light source from 18 hours to 12. "You're basically telling your plant it's mid-September," Lipton said.
"Growing cannabis in tight spaces is not my usual recommendation," said Stephen Lipton, the cultivation manager at The Farm Recreational Marijuana Dispensary, an award-winning recreational facility in Boulder, Colorado, specializing in what it calls "craft cannabis." At any given time, Lipton oversees close to 15,000 plants across seven different facilities in Boulder County. "If you have a really tight space and it gets too hot or too humid, you're going to have big trouble."
Trigger the flowering cycle.
It's important to remember that cultivating even one cannabis plant for personal consumption is felony on the federal level and punishable by up to five years in prison. Meanwhile, four US states — Alaska, Colorado, Washington D.C. and Oregon — have passed local amendments, allowing citizens who are 21 years old and over to grow a limited number of plants without fear of persecution.
pH of Water: 6.3 to 6.7. "You'll need a meter that you can stick into your water and tell you the pH," Lipton said. "You want something between 6.3 to 6.7 pH for watering your plants. That sounds like pretty sophisticated stuff but it's really not. A lot of times your tap water will be 7.8. You can use what they call pH down. That's a crucial step."
Light: 2,200k. "For a closet set up, I would recommend a 175-watt HPS light," Lipton said. "Some people try to use fluorescent lighting, but I wouldn't recommend that. You're just not going to get a very good outcome. Nowadays, HPS lights can just go right into your home outlet, and you'd just need a timer [to set the intervals]. Position the light directly overhead. They can be pretty powerful, so you're going to want it at least two feet from the top of the canopy [to prevent the plant from overheating]."
Foster the right growing environment.
Presented by Florida Man DIPA
Even with a healthy clone, however, cultivating cannabis can be a long and arduous process — especially in tight indoor spaces. "A lot of people think growing is easy, but it's not," Lipton said. "You have to be really on it. Not everyone has success, obviously."
Soil can be much more forgiving and requires less precision when watering and feeding plants additional nutrients. Photo by: Gina Coleman/Weedmaps
Image lightbox
Grow tents also make it easier for home growers to maintain two separate environments: one for vegetative growth, and the other for flowering. This allows you to keep a perpetual harvest going by propagating and growing young plants in one tent and flowering another set of plants in the other tent. Maintaining a balanced rotation like this can result in maximized harvests year over year.
Odor control
Planning, designing, and implementing an indoor garden can seem daunting, but having a firm understanding of the basics goes a long way in helping a new indoor grower get started on the path to a healthy and bountiful harvest.