Both types of HIDs are usually inexpensive to buy but will eat up electricity. HIDs throw off a lot of light and heat, which the plants need to bulk up and get potent. But, they run hot, contain heavy metals, and ballasts can fail.
There are many different kinds of lights out there, so it can be daunting to know where to begin. Here's a guide to four basic types of grow lights on the market and the pros and cons of each.
Young and mature plants, or vegetative and flowering plants, respectively, like different types of light, and you can buy grow lights that target each spectrum. Commonly, growers using HIDs will use MH bulbs for vegetative plants and HPS bulbs for flowering. Some LEDs are also designed to target different light spectra.
HID lights for growing marijuana
These bulbs contain mercury and metal halides, produce a blueish light, and are commonly used for vegetative growth. They require a ballast to regulate the current. In the past, ballasts have been big and bulky, but digital ones are now available.
You can find lights for under $100, but they may be low quality and not produce the right spectrum of light, and you can also easily spend as much as $2,000 for a large, state-of-the-art LED.
How much does a grow light cost?
These HID bulbs usually contain sodium, mercury, and xenon, and produce a yellow/orange light, and are commonly used for flowering plants. Some growers will start plants under MH bulbs and switch them to HPSs when plants go into the flowering stage, using the same hood. These lights also require a ballast.
One of the crucial elements a cannabis plant needs is light. During photosynthesis, a plant converts light energy into chemical energy, allowing it to grow strong and healthy, and with cannabis in particular, light also fuels bud production.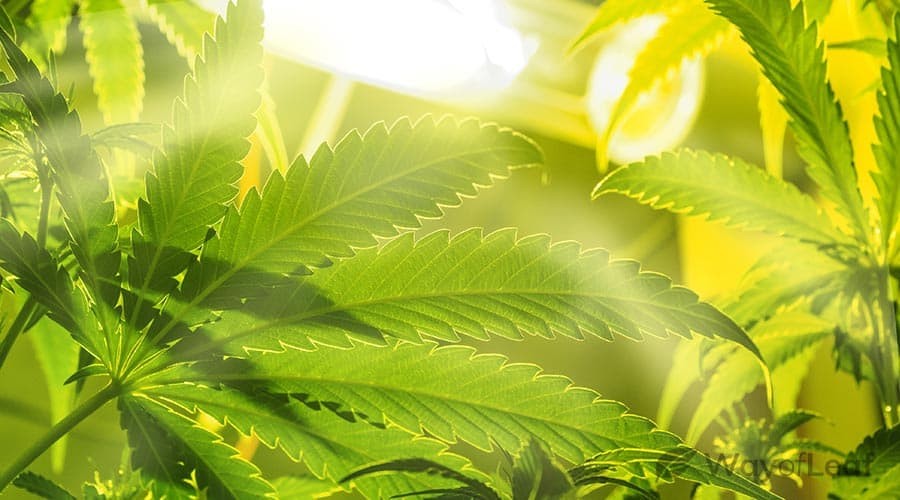 HID grow lights are old school and can produce a vast harvest but use a considerable amount of electricity. However, they're still widely considered the standard for indoor marijuana cultivation due to their efficiency and power output. They are also cheaper to buy before electricity costs enter the equation.
● Creates less heat compared to other lights.
There are plants like microgreens that can flourish with a basic lamp. However, marijuana plants require fairly strong and consistent light to help them into the blooming phase. Remember, when you grow cannabis indoors, you're competing with the sun in terms of light! This means you need high-power lights in your plants' grow space.
● No learning curve for beginners.
Can I Use Any LED Light as a Weed Grow Light?
Check your breaker board to ensure there are plenty of outlets and enough power to handle your lighting easily. Next, go through your full list of equipment to determine its power usage. If you don't have enough power capacity, the risk of electrical fires increases markedly.
You can buy HPS lighting in a variety of strengths, but don't use 1000W. It is far too powerful and is only suitable if you have created a vast underground field of cannabis plants! Instead, a pair of 400W or 600W HPS lights should suffice.
Different options work best for different solutions, so pick the one that's right for you and work to its advantages. Once you have selected the right light for your needs, you can start growing cannabis. After choosing the soil type, your fertilizer preferences, and a few other things, of course!
Space
This ensures you don't overheat your grow room. Marijuana plants like a warm environment. However, excessive heat damages them and may also cause a fire in your grow room.
For the early vegetative stage, the blue glow from the metal halide lights is best.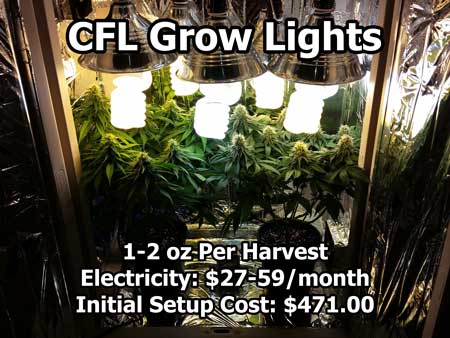 T5s are much bigger/wider than CFLs and usually come as part of a panel, but they can still be kept mere inches away from your plants without worrying about burning them.
For the many growers who are unable to cultivate cannabis outside in the free abundant sunshine, grow lights are necessary to successfully grow cannabis indoors. Grow lights take the place of the sun, and power the growth of your plants and their buds. Light is like "food" for your plants, so without a lot of bright light, even a healthy cannabis plant won't produce much bud at all.
Simply hang an LED light over your plants and start growing!
Keeping CFLs close results in the best yields and growth
Cannabis plants under a T5 grow light – when plants are trained (like these ones in a Scrog setup) you can get pretty decent yields from fluorescents.