Our complete grow kits include everything you need to go from seed to your very own supply of high grade medical cannabis.
Wattage also helps determine how far away you should keep your plants. Generally speaking, higher wattage lights need to be positioned further away from your plants because they can burn them. LED lights are an exception to this rule because they give off surprisingly less heat when compared to the other types of lighting with the same wattage.
If you are looking for a great value, this light should be on your list. It is full-spectrum, and also optimized for marijuana growing because it includes dimmers that help the plants "think" the days are getting shorter. However, if you are growing autoflowers, this isn't something you'd need to be concerned about.
4. Sunblaster CFL Grow Light
How do you know which lighting system is best for your situation? Well, you first need to know what you are looking for, and the best way to do that is by learning some key terms. This article will explain the fascinating features of lights for growing weed and list 10 of the best.
Unlike other full-spectrum options, the Solarstorm is dual operating. The light includes a single switch to provide either blue-spectrum light for the veg phase or red spectrum light for the flowering phase of photoperiod plants.
Lighting Terms That you Should Know
As an LED, the 440Watt California Lightworks Solarstorm will work for your plants' entire lifecycle. The light provides five bands of high PAR (Photosynthetic Active Radiation) from the deepest blue colors to the deepest red colors of light – a rich blend of everything your marijuana plants need.
The only possible downside of these lights for growing weed is their sound. Some people may find the fans a little noisy (when compared to less powerful lights).
Make sure you have enough outlets and power available in your breaker board for your grow space to comfortably accommodate all equipment. Figure out all pieces of equipment, such as lights, fans, possibly an AC or dehumidifier, and calculate how much power they'll require. You'll be running this equipment every day for months, so if you don't have enough power it can be dangerous. Never overload an electrical outlet.
For HIDs, light occurs as an arc between two nodes inside the bulb. The gas contained in these bulbs is what makes MHs and HPSs different. HID bulbs are usually more expensive than the reflective hoods that hold them.
Plant stage
You can find lights for under $100, but they may be low quality and not produce the right spectrum of light, and you can also easily spend as much as $2,000 for a large, state-of-the-art LED.
Aside from the price of the actual light, also take into account utilities—all lights will add to your electricity bill every month, but some more than others. High-intensity discharge lights—known as "HIDs"—may be cheaper to buy but can gobble up electricity, whereas LEDs are more efficient and kinder on your electricity bill but usually more expensive to buy.
Types of marijuana grow lights
You can find HID reflector hoods, as well as MH and HPS bulbs at any local grow shop.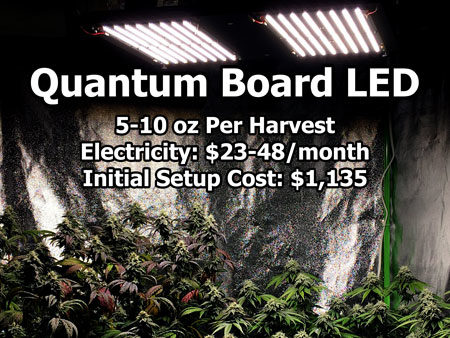 Note: When shopping for LEDs, make sure they contain some amount of green or white (full spectrum) light. Plants grown without at least a tiny amount of green or white light are very prone to nutrient deficiencies and simply don't grow as well. Learn more about how light spectrums affect cannabis growth!
T5 Grow Lights
More Light = Bigger Yields!
(up to a point, it is possible to give your plant too much light!)
Keeping CFLs close results in the best yields and growth
Example of MH/HPS Setups That Yield 1-5 Ounces/Month
For the many growers who are unable to cultivate cannabis outside in the free abundant sunshine, grow lights are necessary to successfully grow cannabis indoors. Grow lights take the place of the sun, and power the growth of your plants and their buds. Light is like "food" for your plants, so without a lot of bright light, even a healthy cannabis plant won't produce much bud at all.
Compare the Pros and Cons of Each Grow Light
Metal Halide (MH) Grow Lights
Simply hang an LED light over your plants and start growing!