Fixtures come in all shapes and sizes and can usually accommodate 4-12 long fluorescent bulbs; a standard size is 8 bulbs. Fixtures usually have a reflective material to bounce light in one direction, down on your plants.
Some grow lights are more expensive than others, but also more efficient, saving money in the long run. Some lights are bulky with many parts, some light in weight, and some are better suited for young or mature plants.
Power equals poundage, so if you want big yields you'll need more wattage. Professional LEDs can start at as little as 200 watts, and go up from there. A high-watt light can double the work of several low-watt bulbs.
The typical homegrower will only need one or two lights. Most states limit grow amounts to 6 or 12 plants, and one or two lights should be plenty for that. If you plan on running two separate rooms, one for vegetative plants and one for flowering plants, you'll need two lights.
Best HID grow light brands
You can find lights for under $100, but they may be low quality and not produce the right spectrum of light, and you can also easily spend as much as $2,000 for a large, state-of-the-art LED.
Here are a few different CFL grow lights at different price points.
These bulbs contain mercury and metal halides, produce a blueish light, and are commonly used for vegetative growth. They require a ballast to regulate the current. In the past, ballasts have been big and bulky, but digital ones are now available.
How much does a grow light cost?
There are many types of lights, but below are the four most common you'll find in a grow room. There are many variations within each of these four types as well, and new lights and technology come out all the time.
LEDs also typically run a lot cooler than HIDs, so you may not need extra equipment to cool down your grow space, and one LED can usually be used for both vegetative and flowering growth. Some high-end LEDs allow you to change the spectrum for each growth stage.
Whether you are growing a single plant, or a massive garden, LED lights are some of the best options around.
Grow with the Sun
However, with an expected service life of only 10,000 hours, you will need to replace these lights a lot more frequently than LEDs.
Wattage refers to a light's power rating. Pay attention to this number because it has a bearing on how many lights you will need. For example, if you have a smaller grow space, one light with high wattage may be enough. However, if the lighting you choose has low wattage, you will need additional lights to provide the proper coverage.
9. G8LED Mega LED Grow Light
Like plants growing outdoors in the sunlight, indoor plants grow best under full-spectrum bulbs
Wattage also helps determine how far away you should keep your plants. Generally speaking, higher wattage lights need to be positioned further away from your plants because they can burn them. LED lights are an exception to this rule because they give off surprisingly less heat when compared to the other types of lighting with the same wattage.
The Sun System light emitting ceramic provides all the far frequencies of red light in addition to all the blue light, so your plants will have all the light needed to thrive and produce huge buds. This full spectrum is superior to what is provided by other lights currently on the market. The Sun System is also easy to set up and was designed to reduce the radiant heat generated by its arc tube.
4. Sunblaster CFL Grow Light
The system is user-friendly and designed to be used straight out of the box. Simply plug it into an available wall socket, and it is good to go. The GRW also comes with a lens to help concentrate the light downwards to maximize the light source and better benefit your plants.
Harvest up to a pound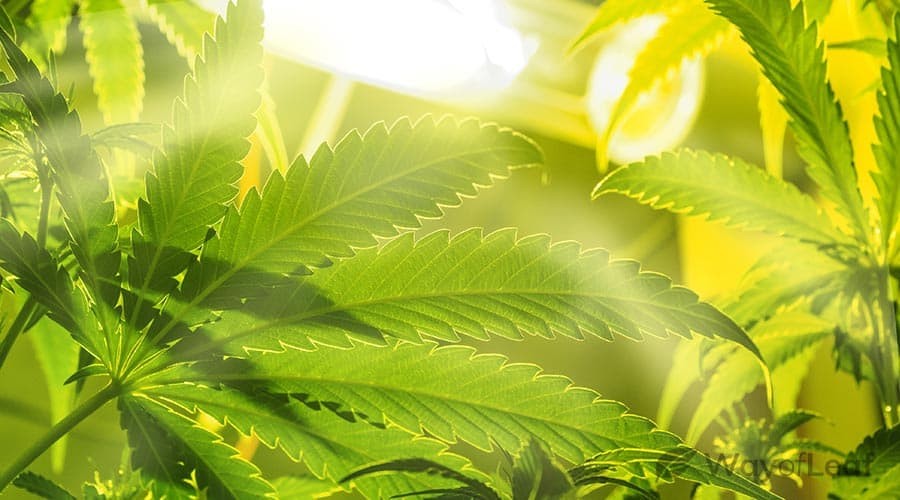 LED grow lights can also distribute a fuller light spectrum due to how the light is created through electroluminescence. This can result in a better, higher quality yield from your bud.
This is another challenging question to answer. According to cannabis cultivation experts, you should begin by multiplying your grow room's width by its length. For example, a room that's 200cm long and 120cm wide (2m x 1.2m) has a grow space of 2.4m 2 .
However, fluorescent lighting provides lower yields than its rivals. You must also position them close to your plants to derive any benefit. This means you can use them in a small room, but they are ineffective if you plan to grow several plants.
Light Emitting Ceramic Grow Lights
Different options work best for different solutions, so pick the one that's right for you and work to its advantages. Once you have selected the right light for your needs, you can start growing cannabis. After choosing the soil type, your fertilizer preferences, and a few other things, of course!
● They are the most intense light option available, ensuring your plants get all the light they need.
What Is the Average Cost of Indoor Grow Lights?
There are plants like microgreens that can flourish with a basic lamp. However, marijuana plants require fairly strong and consistent light to help them into the blooming phase. Remember, when you grow cannabis indoors, you're competing with the sun in terms of light! This means you need high-power lights in your plants' grow space.
This ensures you don't overheat your grow room. Marijuana plants like a warm environment. However, excessive heat damages them and may also cause a fire in your grow room.