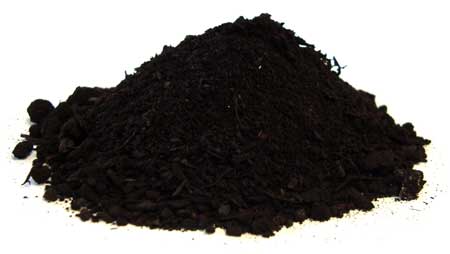 Here's organic "super" soil up close
Good Cannabis Soil
The plant is growing in organic, composted "super soil" which has enough amendments to last your entire grow, so the only thing you do is add water!
Worm Castings
More About Common Amendments to Alter Texture, Drainage & Water Retention of Soil
Bad Cannabis Soil
Although this seedling is over a month old, it has stayed tiny. Its growth is stunted by the thick heavy soil that holds way too much water and not enough air. Note how some of the soil looks like one solid object.
Note: You'll likely never see any soil mix with ALL those ingredients, but I wanted to share examples of common cannabis-friendly ingredients and amendments that often appear on the label of good soil
Example of "Good" Cannabis Soil Ingredients
Although that list looks vague and complicated at the same time, the requirements you want to meet are actually pretty simple; let me break it down!
This is what kind of soil to get if you don't have any "good" soil available, but want something that is known to work for growing cannabis.
You can make this yourself by combining worm castings, bat guano, and other components with a good soil and letting it sit for a few weeks, or it can be purchased pre-made from a local nursery or grow shop.
In hot climates, sandy soil should be mulched to help with water retention and to keep roots from getting too hot.
Big yields
Loam soils
Here are some important considerations before starting an outdoor marijuana grow.
Weed plants will need full, direct sun for at least 6 hours a day. You may have a backyard, but it might not be great to grow there if it doesn't get full sun every day.
Once you have an understanding of the climate in your area, you'll need to consider a few things before planting your weed.
Silt soils
If you don't have a suitable patch of earth to make a garden, containers can be placed on decks, patios, rooftops, and many other spots. If needed, you can move them around during the day to take advantage of the sun or to shield them from excessive heat or wind.
Indoor grows can be wasteful, using a ton of electricity to power all those lights, fans, and other equipment. The sun and the wind are free!