Start off with fertilizers that are inexpensive and readily available. Some release nutrients quickly and are easily used by the plant, while others take weeks or months to release usable nutrients. If done correctly, you can mix in a few of these products with your soil amendments to provide enough nutrients for the entire life of your plants. Most of these items can be purchased cheaply at your local nursery.
Cannabis plants require a large amount of nutrients over their life cycle, mainly in the form of nitrogen, phosphorus, and potassium. How much you need to add to your plants will depend on the composition of your soil.
Here are some important considerations before starting an outdoor marijuana grow.
Most outdoor weed growers will either dig a hole and add fresh soil for the plant, or grow their weed in pots. This will allow you to better control the growing medium and the amount of nutrients your plants receive.
Growing containers
Balcony: This can be a great spot if it gets good light—ideally, it faces south—and will usually get good wind. However, you may need to cover your balcony from peeping neighbors.
Relying on the power of the sun, you won't need to spend a ton of money on an outdoor grow. You'll need some soil, fertilizer, seeds or clones, and maybe a small greenhouse to get them started. You won't need to pay for electricity for lights, AC units, or dehumidifiers, and you can even collect rainwater.
Typically, outdoor growers will add amendments to soil when weed plants are transplanted outside. Outdoor amendments usually come in powder form that you mix in with soil.
Buying the right soil for an outdoor cannabis grow
Sandy soil is easy to work, drains well, and warms quickly, but it doesn't hold nutrients well, especially in rainy environments. You'll want to dig large holes for your plants and add compost, peat moss, or coco coir, which will help bind the soil together.
We also advise against using nutrients designed for indoor weed growing—they are generally composed of synthetic mineral salts and can damage soil bacteria.

Loam has a dark color and is soft, dry, and crumbly when you hold it. Although it offers a tight hold on plant food and water, it drains exceptionally well. The air can freely move between the particles down to the marijuana plant's roots.
This enhances water retention and causes your soil to become 'lighter.' It works particularly well with Perlite.
Buy Only the Right Soil for Your Cannabis Plants
Ultimately, you can choose between soil or a hydroponic system if you wish to grow weed at home. A hydroponic system is potentially extremely effective, but it is also expensive. Generally speaking, those cultivating their cannabis for the first time should choose soil. The roots of your plants will extend deep into the earth as they look for nutrients and water.
The amount of work you must do depends on the balance of your existing soil. For instance, if it has high amounts of clay or sand, you'll have to add large amounts of organic matter several times a year. You can add a two-inch layer of organic matter onto the surface of the garden. Then, you should work it into the first couple of inches of soil.
Worm Castings
This is probably the most commonly purchased amendment and is ideal for practically any soil mix. It consists of airy 'rocks' known for their white hue. Perlite looks a bit like popcorn and improves drainage while adding oxygen. Use 10-20% to improve water retention. You can go as high as 40%, but you risk leaching nutrients faster. If you use Perlite and Vermiculite, don't go above 50% for the two combined.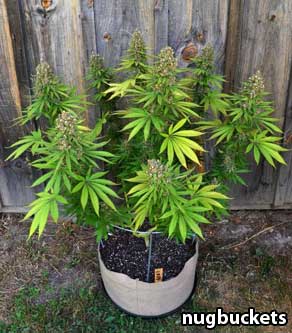 However, when growing with Super Soil, it's a good idea to avoid watering too much at a time, as extra runoff waterwill drain away some of the nutrinets. Try to give just enough water to saturate the soil with very little extra coming out the bottom. Since you won't be adding more nutrients through the grow, you want to conserve what's in the soil!
Nugbuckets is a famous organic soil grower! Check out his plants!
Coco Coir

(picture by Wattze)
Kind "Super" Soil (Living Soil)
Bad Cannabis Soil
Don't use dirt from outside! It almost never works, especially if it looks like this!
If you get the soil part right, you have almost everything you need to get to harvest! With the correct texture, drainage and water retention, you've got a perfect base. Add good soil cannabis nutrients, especially in the budding phase, and you should get to harvest with great results!
If you are willing to keep transplanting to bigger pots as your plant uses up the nutrients in the soil, you don't need to supplement with extra nutrients. However, even if you grow in the same pot from seed to harvest, Fox Farm offers a complete nutrient system that is also formulated for plants like cannabis and goes perfectly with their soil to make sure your plant is getting the right levels of nutrients throughout its life.
Organic Potting Mix
What gets the best results for growing cannabis is a soil with a light texture that is good at retaining water…but not too much!
Good Cannabis Soil
Rich and light composted soil. Since this soil doesn't have a lot of perlite, it's a good choice for a grower who doesn't want to add a lot of extra nutrients or supplements in the water.