Red's Premium is another all-in-one, ready-to-use soil blend. But what makes it one of the best soils for weed is its stand-out feature: biochar. Biochar is an amendment that excels at protecting and promoting the growth of bacteria, fungi and other microorganisms that are essential for root development and strengthening your plant's immune system.
From planting seeds to harvesting buds, Nature's Living Soil's Organic Super Soil has you covered through cannabis' entire grow cycle. Reviewers love the ready-to-use simplicity this soil provides: just plant, water and wait. For those growing on their own for the first time, this is one of the best soils you can buy.
The best soils for weed don't always have to be products specialized for cultivating cannabis. Sometimes, a good organic potting soil is all you need, and Sungro's Black Gold all-organic potting soil is an excellent case in point.
Red's Premium Biochar-Based Soil
But just as important as what's in this soil is what's not: less perlite, less pumice, and fewer amendments. This makes Formula 707 a highly customizable soil, allowing you to add your topsoil and liquid nutrients at various growth stages depending on your cannabis plants' needs.
Your soil's nutrients and the water you provide need to link up to be available for and absorbed by plants' roots. Biochar, a carbon-rich charcoal amendment, not only facilitates this process but it also provides a large surface area for microorganisms to live and thrive. Red's Premium Biochar-based soil thus creates an ideal "habitat" for all the living beings that help your cannabis plants reach their full potential.
Nature's Living Soil Organic Super Soil
At a price point that won't put a hole in your pocket, Black Gold boasts all of the essential traits of a strong soil for growing weed. Its loamy mixture contains an optimal blend of pumice and perlite for hydration and microorganism development, and its balanced nutrient blend won't burn young cannabis plants. Those features have won this soil praise from gardeners of all stripes, cannabis growers included.
Fox Farm's specialized line of soils for cannabis are some of the most widely acclaimed grow mediums available. If you're beginning your grow journey from the ground up, Happy Frog is an excellent soil to nurture seeds and seedlings.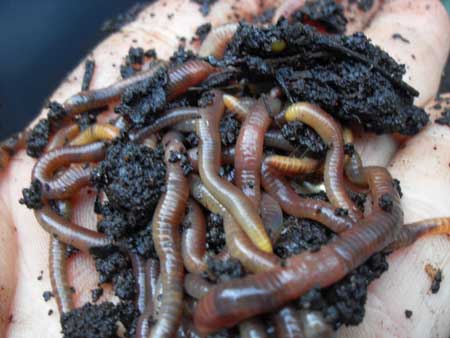 It's easy to get caught up thinking about what nutrients and amendments are in the soil, and those are important, but perhaps the most important aspect of any soil is actually its texture, ability to drain, and overall water "holding" ability.
Texture, Drainage & Water Retention
This plant is growing in Fox Farm Ocean Forest Soil
Fox Farm Ocean Forest Soil
Now here are a few examples of good and bad cannabis soil so you can see the texture you're looking for!
Some growers plant in containers on balconies or rooftops that are shielded from view, while some build heavy-gauge wire cages to keep thieves and animals at bay. Whatever you decide, think about how big you want your final plant to be—outdoor cannabis plants can grow to 10 feet tall or even more, depending on how much you let them go.
If you don't have a suitable patch of earth to make a garden, containers can be placed on decks, patios, rooftops, and many other spots. If needed, you can move them around during the day to take advantage of the sun or to shield them from excessive heat or wind.
Privacy and security
Big yields
Most outdoor weed growers will either dig a hole and add fresh soil for the plant, or grow their weed in pots. This will allow you to better control the growing medium and the amount of nutrients your plants receive.
Buying the right soil for an outdoor cannabis grow
Once you have an understanding of the climate in your area, you'll need to consider a few things before planting your weed.