Check out our Guide on nutrients for more info.
Growing weed indoors is great because you can grow it any time of year and you'll have complete control over the plant and what you put into it. Live in an apartment or a small house? Don't worry, you can grow weed practically anywhere, even if you don't have a backyard or a lot of extra space.
When starting with clones or seedlings, you'll want to check your plants every day because they're delicate and sensitive to environmental conditions. You may need to adjust temperature and humidity levels in your indoor grow space at first to hit the sweet spot for your plants.
Controlling temperature in your indoor grow room or cannabis garden can be achieved by manipulating these factors:
Watering and nutrients
Below is a list of things to consider and equipment you will need to purchase to get started growing marijuana indoors.
Weed plants need different amounts of light during their vegetative and flowering stages. You don't have to worry about this in an outdoor setting—the sun and the season dictate this—but when growing indoors, you will be controlling it.
For small spaces or tents, clip-on fans can be attached to structures like walls, corners, or support beams. For larger grow rooms, use medium-sized oscillating fans or big floor models.
Benefits of growing weed indoors
In addition to bulbs, HID lighting setups require a ballast and hood/reflector for each light. Some ballasts are designed for use with either MH or HPS lamps, while many newer designs will run both.
A lot of people these days buy grow tents for their weed, but they aren't necessary. You can grow in a closet, tent, cabinet, spare room, or a corner in an unfinished basement. Just keep in mind that you'll need to tailor your equipment (and plants) to fit the space.
Enjoy, have fun, and learn a tip or two—growing weed is therapeutic and relaxing, and there's nothing better than smoking weed you've grown yourself.
Your homegrowing journey starts with the question: indoors or outdoors?
Where is it legal to homegrow cannabis?
Check out our Guide to marijuana legalization for more details on homegrowing in your state.
Indoor vs. outdoor marijuana growing
Note that "mature" plants are those in the flowering stage, when plants begin to produce buds; "immature" plants are those in the vegetative stage, before they produce buds. A "household" is defined as two or more people living at a single residence.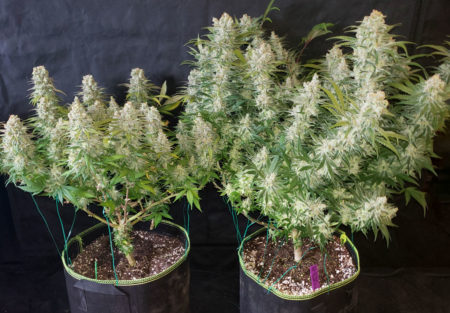 Wait until the buds on your plants stop growing new white "hairs" (pistils). At this point, you probably still have a few weeks left. When 90% of the pistils have darkened and started curling in, your buds should be fat and ready for harvest. You can get even more accurate results by looking at the glittery "trichomes" on the buds under a magnifier, as these turn cloudy white when the buds have reached their highest potency!
All that being said, some of the most experienced and talented growers are sharing their knowledge online, and it's worth seeking out online growing communities during your personal growing journey.
Honestly, if you really want to get the biggest yields indoors, the best thing you can do is get the best possible light setup for your grow space.
2.) The grow light may be the most important tool in the grow room
So for a lot of first-time growers, the most important lesson about nutrients might be that LESS IS MORE.
Many old-school or generic LEDs produce small or strange-looking buds like these ones.
3.) The strain makes a HUGE difference in your results
Even if you grow two strains with the same grow light, grow medium, nutrients, and care, they can grow WILDLY different from each other.
One of my favorite LED grow lights is the Electric Sky ES300, pictured here. Plants stay healthy and the buds get thick. Only downside is the lamp itself is super heavy. Bud quality is top-notch.