This is probably the most commonly purchased amendment and is ideal for practically any soil mix. It consists of airy 'rocks' known for their white hue. Perlite looks a bit like popcorn and improves drainage while adding oxygen. Use 10-20% to improve water retention. You can go as high as 40%, but you risk leaching nutrients faster. If you use Perlite and Vermiculite, don't go above 50% for the two combined.
This is because they don't benefit from nature in the same way as outdoor growers. Use heat to sterilize the soil and add nutrient-rich potting soil mix. You can make it yourself, but newbies should purchase it from the garden store. Water the soil correctly. Also, keep it in a room with a temperature of 68 degrees Fahrenheit and test the pH every so often.
It is, however, the best soil for cannabis, which means it is worth the time and effort that you have to put in. No matter what type of soil you have, creating loam involves adding organic matter to it each year. The decomposing plant material creates the excellent drainage conditions your weed needs.
Nutrients
This is made from coconut husks and manages to improve water retention without causing the soil to become heavy. When you use coco coir, the roots of your plant should develop quicker, and you're less likely to overwater. You can grow your marijuana in pure coco coir. However, a maximum of 30% is best for a productive soil amendment.
The trouble with organic matter is that it gets depleted rapidly. This means you have to amend it on a season by season basis.
Whether you want to call it dirt or a growth medium, soil is a crucial component for growing marijuana. Choosing the best soil for your weed is arguably the most critical decision you'll make when growing cannabis at home. Getting it right is likely the difference between a bountiful harvest and utter failure.
Best Soil for Indoor Plants
This enhances water retention and causes your soil to become 'lighter.' It works particularly well with Perlite.
The amount of work you must do depends on the balance of your existing soil. For instance, if it has high amounts of clay or sand, you'll have to add large amounts of organic matter several times a year. You can add a two-inch layer of organic matter onto the surface of the garden. Then, you should work it into the first couple of inches of soil.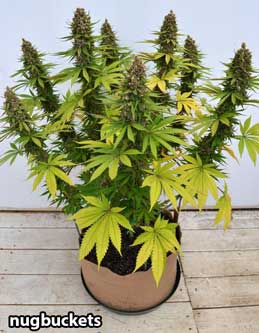 This is what kind of soil to get if you don't have any "good" soil available, but want something that is known to work for growing cannabis.
However, when growing with Super Soil, it's a good idea to avoid watering too much at a time, as extra runoff waterwill drain away some of the nutrinets. Try to give just enough water to saturate the soil with very little extra coming out the bottom. Since you won't be adding more nutrients through the grow, you want to conserve what's in the soil!
Although that list looks vague and complicated at the same time, the requirements you want to meet are actually pretty simple; let me break it down!
If you get the soil part right, you have almost everything you need to get to harvest! With the correct texture, drainage and water retention, you've got a perfect base. Add good soil cannabis nutrients, especially in the budding phase, and you should get to harvest with great results!
Organic Potting Mix
Here's organic "super" soil up close
Some growers choose an amended and composted "hot" soil that slowly releases nutrients over time. With this type of soil, you typically just add water or natural supplements like worm tea from seed to harvest. Other growers prefer a lighter potting mix so they have more control, and give nutrients in the water once the plant roots have used up the nutrients in the soil. But which brands can you trust?
Bad Cannabis Soil
Cannabis soil should not have a whole lot of big visible wood chips in it. That means the soil hasn't been fully composted, and all the nutrients and goodness in that wood is mostly unavailable to your plants.
Kind "Super" Soil (Living Soil)
The following video shows the soil texture you want (this is Coco Loco, an excellent soil for growing cannabis)
I think most growers agree a good cannabis soil should look dark and rich, with a loose texture that drains well and can hold water without getting muddy (you want wet soil, not dirt-batter!). But beyond that, what do you look for?
You will want to provide the proper amount of light and water to your plants, of course. A drip irrigation system can cut your water bills while improving the health of your plants. Kits are available that give you everything you need to get started. If you prefer, you can start from scratch and obtain separate components to put them all together.
Loam is ideal for containers as well as for outdoor growing. Unfortunately, it is usually the most expensive soil to buy. But if you are interested in growing the best plants possible, it can pay big dividends in the long run.
You can also build up your own loam soil by adding organic matter to it. If you have a compost bin, you can use the compost to improve your soil. This will be a time-consuming and ongoing process but with grit and persistence will pay off in the long run.
In addition, you do not necessarily have to provide costly soil for your plants outside. But for the best results, you want good marijuana soil that will help your plants grow healthy and happy. DripWorks is here to offer you a few simple tips for finding and creating the best soil for growing marijuana outdoors.
Sand is easily permeable for root growth, for instance, but it does not hold on to water or fertilizer well.
Loam for Growing Marijuana & Other Crops
Of these types, loam is by far the best soil mix for growing marijuana plants and many other types of crops. Loam is a mixture of clay, sand, and silt, bringing forth the best qualities of these disparate types of soil while minimizing their worst attributes.
Growing cannabis outdoors offers many benefits. Firstly, it can be very affordable. You do not need to provide a structure like a greenhouse or high tunnel. In addition, artificial light is not necessary if you place it in the right spot in your yard, because your plants can benefit from the sun's abundant and free energy.
The optimal ratio for loam is 20% clay, 40% silt and 40% sand. Most folks think a pH of 6.0 is best for cannabis, with a range of 5.8 to 6.3 being acceptable. With a pH close to neutral, loam is typically in that zone or close to it.
Soil Types
Four basic soil types exist: sand, clay, silt, and loam. Each has its pros and cons for gardening.
Clay is just the opposite. When it's hot and dry, clay can become hard as a rock, making it difficult for roots to penetrate. Clay drains poorly and is hard to cultivate. On the plus side, it is rich in minerals and natural nutrients.