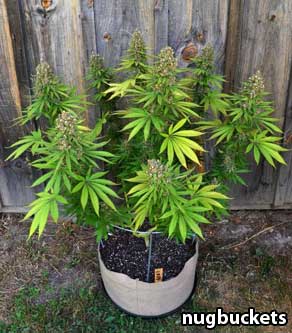 Super Soil has a colony of micro-organisms living in the soil which form a symbiotic relationship with your plant roots. They deliver nutrients to your plant, and in return they eat the sugars that get secreted by your roots!
Bad Cannabis Soil
Cannabis soil should not have a whole lot of big visible wood chips in it. That means the soil hasn't been fully composted, and all the nutrients and goodness in that wood is mostly unavailable to your plants.
Try to get soil that looks like this!
Their Ocean Forest soil mix is "hotter" soil (higher levels of nutrients) that contains ingredients that cannabis plants love, including earthworm castings, bat guano, fish meal and crab meal. The nutrients contained in the soil will provide everything your plant needs for several weeks. Although it might give young seedlings just a touch of nutrient burn at first, they can be started in Ocean Forest soil and will soon be able to use the nutrients and start growing quickly. Some growers might put a little big of Happy Frog on top of a container of Ocean Forest, just to make it a little more gentle for seedlings the first week or two.
Kind "Super" Soil (Living Soil)
Recommended soil nutrients:
Bad Cannabis Soil
Although this seedling is over a month old, it has stayed tiny. Its growth is stunted by the thick heavy soil that holds way too much water and not enough air. Note how some of the soil looks like one solid object.
However, when growing with Super Soil, it's a good idea to avoid watering too much at a time, as extra runoff waterwill drain away some of the nutrinets. Try to give just enough water to saturate the soil with very little extra coming out the bottom. Since you won't be adding more nutrients through the grow, you want to conserve what's in the soil!
More About Common Amendments to Alter Texture, Drainage & Water Retention of Soil
Now here are a few examples of good and bad cannabis soil so you can see the texture you're looking for!
Here's organic "super" soil up close

This is a prevalent marijuana potting soil and has an almost neutral pH. It offers excellent drainage and water retention, contains high oxygen levels, and is naturally fertile. However, it is by far the most expensive option.
This type of soil is among the best organic options for cannabis. Clays consist of fine crystalline particles created via chemical reactions amongst minerals or other natural resources. You can mold or shape clay soil, but it is hard to work with and drains poorly.
What Does Loam Soil Look Like?
If you are a beginner grower, you must purchase your soil from a garden store. Did you know that the vast majority of expert growers also buy their soil? A handy tip when talking with a store employee is to ask about the right kind of soil for tomatoes. It is an excellent option if you feel uncomfortable disclosing your desire to grow weed!
Yes, we are talking about worm poop! Once you get past the initial horror, you'll find that your marijuana plants adore worm castings. They improve water retention, drainage, and texture. Their natural nutrients are quickly broken down. Worm castings typically include useful microorganisms since they go through the digestive systems of worms. Keep the level of worm castings down to around 30%.
How to Make Loam Soil
Loam soil is a combination of sand, silt, and clay, typically in a 40/40/20 ratio. It has at least 20% organic compounds and can vary from being easy to work with to incredibly complex. To identify a loam soil, squeeze it. It should form a loose ball that quickly threatens to break apart.
Test kits are available to measure your soil's acidity, or you can take a sample to your friendly local extension agent. If your dirt does not have the proper acidity, soil amendments are available to lower or raise the pH level in your soil. Your local nursery, garden store or extension agent can make some suggestions.
Growing cannabis outdoors offers many benefits. Firstly, it can be very affordable. You do not need to provide a structure like a greenhouse or high tunnel. In addition, artificial light is not necessary if you place it in the right spot in your yard, because your plants can benefit from the sun's abundant and free energy.
In addition, you do not necessarily have to provide costly soil for your plants outside. But for the best results, you want good marijuana soil that will help your plants grow healthy and happy. DripWorks is here to offer you a few simple tips for finding and creating the best soil for growing marijuana outdoors.
Loam for Growing Marijuana & Other Crops
Sand is easily permeable for root growth, for instance, but it does not hold on to water or fertilizer well.
The optimal ratio for loam is 20% clay, 40% silt and 40% sand. Most folks think a pH of 6.0 is best for cannabis, with a range of 5.8 to 6.3 being acceptable. With a pH close to neutral, loam is typically in that zone or close to it.
Loam is ideal for containers as well as for outdoor growing. Unfortunately, it is usually the most expensive soil to buy. But if you are interested in growing the best plants possible, it can pay big dividends in the long run.
You can also build up your own loam soil by adding organic matter to it. If you have a compost bin, you can use the compost to improve your soil. This will be a time-consuming and ongoing process but with grit and persistence will pay off in the long run.
Soil Types
Four basic soil types exist: sand, clay, silt, and loam. Each has its pros and cons for gardening.
Clay is just the opposite. When it's hot and dry, clay can become hard as a rock, making it difficult for roots to penetrate. Clay drains poorly and is hard to cultivate. On the plus side, it is rich in minerals and natural nutrients.