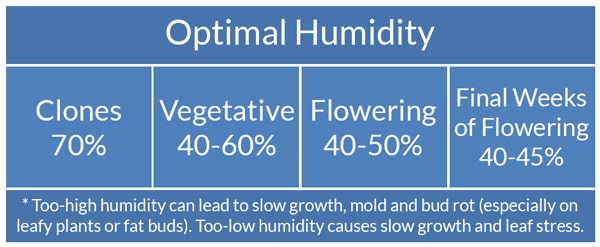 Luckily, there isn't much to learn, so you can be the master of humidity in your grow with very little effort! Today we will give you the information you need to have complete mastery over humidity and thus, give your plants a boost in production.
Humidity is too low – how to increase humidity
Okay, so now you know why you need to manage humidity when growing cannabis, but you may not know what humidity you are aiming for. This chart is the quick-and-easy answer:
Cannabis is a high-value plant that has come to be primarily cultivated indoors due to its high sensitivity. Each stage of cannabis growth requires a specific kind of tune-up to achieve optimum growth and obtain high-quality yields. Humidity not only plays a roll in the growth of this incredible plant, but also in the proper curing of cannabis, and in proper storage containers and conditions while in storage.
What Factors Affect Relative Humidity Control For Cannabis?
If the lights of your grow tent are always on, the temperature of the contained air is raised and hence the relative humidity. Poorly lit grow rooms have cold and dry air (low humidity).
Lighting
There are three basic factors that weigh heavily in determining the correct relative humidity when growing cannabis plants. They are region, genetics, and stages of growth. Although there are lessor and differing situations, these three have the greatest impact.