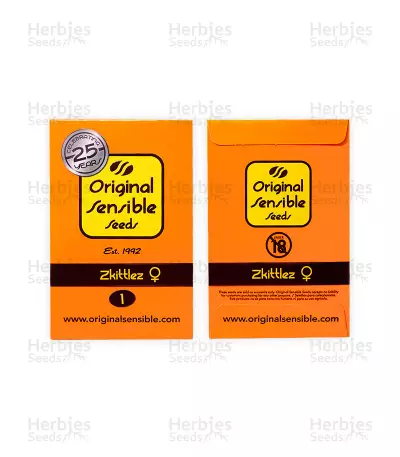 Yields for Zkittlez are massive, so you should remember to place support poles during the vegetative cycle to help support the weight of her harvest. By doing so, you can expect upward of 500g/m 2 (1.64oz/ft 2 ) when grown indoors under a minimum of 600W HID or equivalent LED. Outdoor growers, meanwhile, can expect about 700g (24.7oz) per plant.
Cannabis connoisseurs have a new best friend in Zkittlez, the powerful Indica-dominant strain from Original Sensible Seeds. Bursting with juicy tropical flavors and with surprisingly potent effects that hit both the mind and body, Zkittlez has become a favorite among those who really know their cannabis. She may not be the easiest plant to grow, but that's just another reason why she has become so highly desired by both consumers and breeders who want a strain that leaves nothing behind.
Zkittlez was bred by crossing some of the most flavorful and potent strains out there such as Granddaddy Purple and Grapefruit with Afghan Kush. This family tree has given her a lineage that has amplified her sweet flavor and potent effects.
Effects
Zkittlez isn't the easiest plant to grow, but she will reward expert growers who put in the work. She has a pungent smell, so it's essential that you utilize a robust carbon filter if growing indoors. Expect a medium-height plant that may require you to tame her branches through techniques such as ScrOG. Other grow info to know about include:
Zkittlez' terpene profile will have you feeling like you're sipping a deliciously sweet cocktail on an island beach. She will shock your taste buds with the bright, sweet, and tart flavors of tropical fruits. That's one of the reasons why Zkittlez marijuana is such a killer – once you start toking, it's easy to overindulge!
Zkittlez Strain Info
Zkittlez Grow Report
The Zkittlez feminized cannabis strain is an Indica-dominant hybrid known for its wide range of fruity and sweet flavors. Anyone who tries it will be hooked, but beware – she has over 20% THC hidden behind her candy-like flavor, so this strain can pack a punch!
In the UK, it is legal to own Cannabis Seeds but it is illegal to grow or attempt to grow the cannabis plant from these seeds unless you have a licence from the Home Office.
If you know the strain of seeds you are looking for, simply use the Search Tool to find the seed strain from all seeds banks.
You can also browse our range of seeds by Seed Bank, Feminised, Regular, Auto Flowering, Medical or Bulk Seeds options from our main menu.
Cannabis & The Law
Cannabis Seeds Store sells Cannabis Seeds for souvenir and collection purposes only and accepts no liability for customers purchasing them for any other purposes.
Impressed with the service and love the prices – Ian
Quick delivery, would definitely buy again – Larna
Bulk Seeds are awesome, will be buying more – Dave
Huge range of seeds and the freebies were appreciated – Viv
Hi guys, thanks for a great hassle free service didn't expect delivery to be be so quick – Stu
Customer Feedback